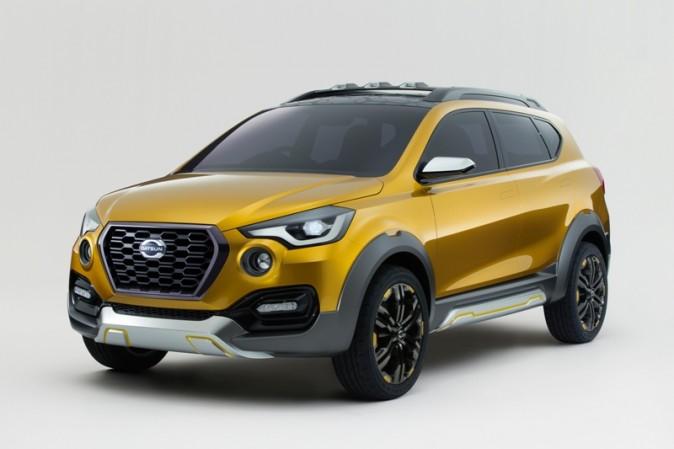 Nissan sub-brand Datsun's next big launch in India is the Go Cross. The crossover model has already been unveiled in the concept form at Auto Expo 2016 and it has garnered a lot of public interest. This interest led the carmaker to fast track the work on the production-spec version.
Also read: For Datsun, Maruti Suzuki Alto is 'purana' as it flaunts redi-GO in latest commercial
The Go Cross will essentially rival against the Maruti Suzuki Vitara Brezza in India. The Maruti Suzuki compact SUV has already established itself as a strong contender and it is the leader in its segment. Hence, it will be difficult for Datsun to draw the attention of public towards Go Cross.
Datsun India reportedly is planning to use pricing as USP against the Vitara Brezza. A report in Autocar claims Datsun targeting a sub-Vitara Brezza pricing strategy for Go Cross. The Vitara Brezza range currently starts from Rs 7.23 lakh (ex-showroom Delhi) and hence Go Cross may get a price that begins at Rs 6.5 lakh.
In addition, the Go Cross will be feature-packed just like its alliance partner Renault Kwid. One of the Kwid's USP is the addition of touchscreen. This is expected to be in the Go Cross too. The crossover is based on the low-cost V platform and that will help the company to price the car competitively.
The GO Cross is likely to sport a less boxy rear design and is expected to have a higher ground clearance. The crossover will also boast of a hexagonal radiator grille, LED headlamps and fog lamps, larger alloy wheels, roof rails and a roof-mounted spoiler. In addition skid plates at the front, rear and the sides will add butch appeal.
Under the hood, the Go Cross is likely to get a 1.2-litre three-cylinder DOHC 12-valve motor that's present in the Go and the Go+. The engine is likely to be tuned to churn out 64bhp of power at 5000rpm and 140Nm of peak torque at 4000rpm.