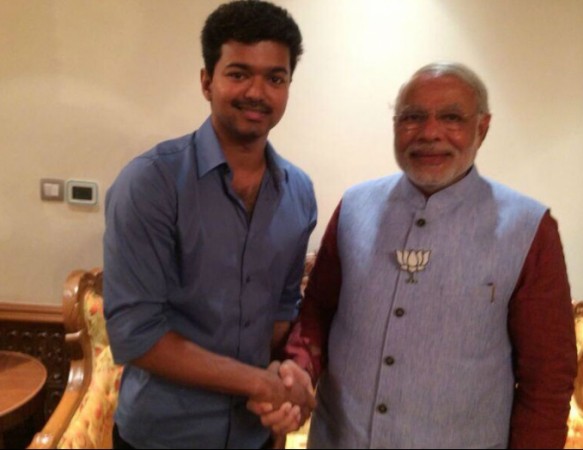 Ilayathalapathy Vijay enjoys a good fan following among the masses and his popularity cuts across language and region barriers. This became evident after a bureaucrat wrote on his Facebook about the actor's reach in a remote village in Kerala.
Umesh Kesavan, the newly appointed Assistant Collector of Palakkad district, has narrated an incident on his Facebook page which has now gone viral. He has said that government's money and services might have failed to reach the Attapady tribal block of Palakkad district in Kerala, but not Vijay's popularity.
He wrote, "Got a chance to visit a remote hamlet in the Attapady tribal block of Palakkad district yesterday.The roads were non-existent, the street lights had gone into hiding, toilets were a no-no (When asked "where is your toilet?", a guy pointed out the entire hill around him and said, "It's all our toilet") and there was general apathy towards government."
"A bunch of guys there were not interested in going to school as they found it pointless anyway. They had no clue about the society around them. When asked what do they do to pass time during non-agricultural seasons/weekends , one guy said "We watch Vijay movies and songs on Tamil channels all the time". Crores and crores of social welfare funds had not reached that untouched remote hamlet. Only Vijay had reached," he concluded.
While his intention was to draw the people's attention towards power of the cinema medium, Vijay's fans have taken this post as one more evidence of the actor's popularity. Speaking to some online media, Umesh Kesavan has clearly said that it is not about the star, but about the people, and that he is upset with the media and people's interpretation.
Nonetheless, there is a new idea being coined by Vijay's fans. "If Vijay has such star power, why not use him as the brand ambassador of Swachh Bharat campaign? It is for a good cause and even if he makes a difference of one percent on the importance of cleanliness, it will benefit the country over a period of time," Shanmugan, a hardcore fan of Ilayathalapathy, tells IB Times.
Are Narendra Modi and his party listening?