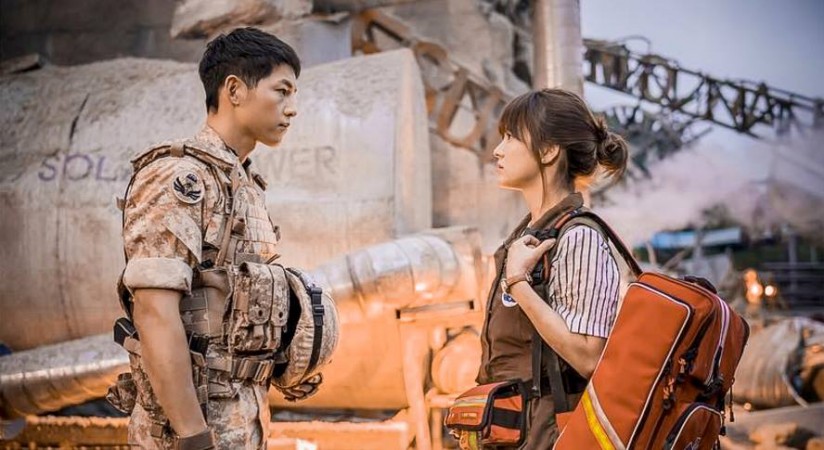 Descendants of the Sun stars Song Joong Ki and Song Hye Kyo's sweet gesture has impressed Kim Min Suk, who can't thank them enough. During a radio show, Min Suk thanked the Descendants of the Sun stars on air for their gesture.
On Tuesday, Min Suk appeared on SBS PowerFM's Jang Ye Won's A Night Like Tonight radio show, where he opened up about Joong Ki and Hye Kyo. When DJ Jang Ye Won asked Min Suk about the gifts he received recently, to which Min Suk said that it made him happy.
"I heard that Song Hye Kyo got you a laundry machine and Song Joong Ki got you a refrigerator as housewarming gifts," Ye Won asked, to which Min Suk replied, "I've always liked doing laundry but thanks to Song Hye Kyo sunbaenim [doing] laundry has become joyful."
"Song Joong Ki sunbaenim originally wanted to gift me with a double door refrigerator (French door refrigerator) but wasn't able to due to difficulties in shipping to the house I moved to. Instead, I received the most modern and cool refrigerator," he added.
This is not the first time, Joong Ki and Hye Kyo surprised South Korean actors. Earlier, the Descendants of the Sun stars had sent a coffee truck to the set of Moonlight Drawn by Clouds for the actor Park Bo Gum and the directors. The incident came to light after the coffee truck company posted about it on social media. "Song Hye Kyo and Song Joong Ki asked us to send a coffee truck to Park Bo Gum, director Baek Sang Hoon, director of photography Kim Si Hyung, and the staff as they were going to be working hard during an all-night shoot. Three actors who are truly angels right down to their bones!" the coffee company posted it on Instagram.
Bo Gum was elated with Joong Ki and Hye Kyo's gesture and took to Twitter to than the Descendants of the Sun stars. "My mood is UP! My energy is springing (He uses the words 'SongSong' as a sound effect)! Thank you," he wrote, according to Soompi.