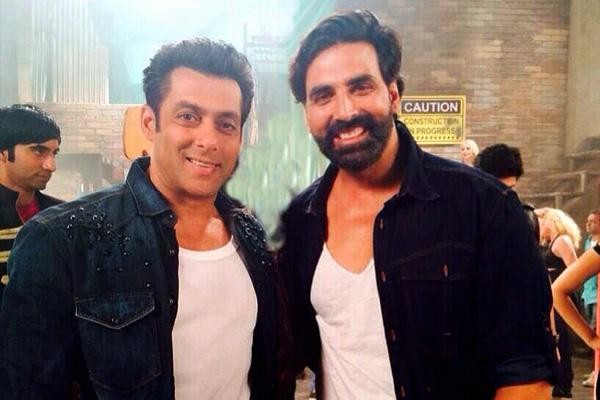 Akshay Kumar's "Rustom" promotion is going on in full swing and what better way than Bollywood's sultan Salman Khan promoting the film on social media.
Salman and Akshay are one of the closest friends in Bollywood and thus it came as no surprise when the "Sultan" star promoted "Rustom" on Twitter. "Sultan" star Salman took to Twitter to tell fans about the upcoming film "Rustom," which is slated to release on Aug. 12.
Salman in a video message asked his fans to watch "Rustom" in theatres on Aug. 12. "Our film industry's Rustom-e-hind's film is coming in theatres and is titled as "Rustom." Go and watch Akshay's film "Rustom" on Aug. 12," Salman said in the video message.
Responding to the video message, Akshay replied on Twitter, "So guys Sultan has spoken, are you listening? #10DaysToRustom."
Earlier, Salman praised "Rustom" trailer and said that he is looking forward to watch the movie. "I watched the trailer of 'Rustom' recently on TV and Akshay is outstanding. I am really looking forward to it," Catch News quoted Salman as saying.
Also, Salman called Akshay the "real sultan" of Bollywood, but the "Rustom" actor asserted that the former is the actual sultan of B-Town. "I think it's his greatness that he said something like this. How large-hearted guy he is. See I did MMA in 'Brothers', but uski chal gayi and he is the real Sultan," Akshay told media during an event.
"Rustom," starring Akshay, Ileana D'Cruz and Esha Gupta, is inspired by the life of navy officer K.M. Nanavati. Directed by Tinu Desai, Akshay plays the titular role. The film is slated to release during Independence Day long weekend along with Hrithik Roshan's "Mohenjo Daro."
Watch the video below: