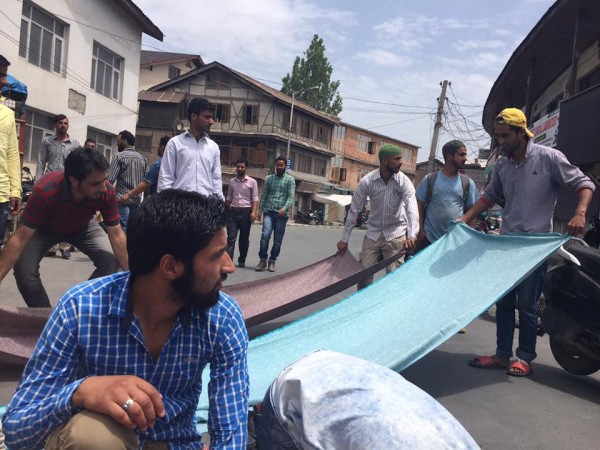 Ramadan is not only a month of challenging oneself by not eating and drinking during day hours but it is also a time that stands for compassion and unity. In the Kashmir valley, which is experiencing usually hot weather during Ramadan this year, hundreds of Muslims who do not manage to find space in crowded mosques have to pray on roads instead.
The sizzling temperatures are no deterrent, and the conditions are made easier by noble souls such as an elderly Sikh cloth dealer from Srinagar. As Muslims prepare to pray on pavements outside the crowded mosque in Karan Nagar locality of Srinagar, this Sikh man rolls out new fabric sheets from his shop for them to pray on comfortably. Although he hails from Amritsar in Punjab, he has been living in Srinagar for many years now.
He is there every Ramadan, outside the mosque to offer the new fabrics for free. This has become a common sight for the people who live in and around the area. And the Muslims are bowled over by this Sikh man's generosity.
Sameen Khan, a radio jockey working with Big 92.7 FM station, uploaded some pictures of him on Facebook. The post has gone viral online.
People are describing him as not only a noble man but one with a good sense of humour too. He does not own a big store but sells his fabrics on pavements.He describes his offerings as service to God.
In the Valley, where the politics of divide between Muslims and Pandits (Hindus) has been played to the hilt, Sikhs are a small community. Jammu and Kashmir has a total number of 3.7 lakh Sikhs, out of which nearly 80,000 live in Kashmir.
Sikhs and Muslims participate in each other's festivals and Ramadan often serves as a reminder of the same. In the uptown Srinagar locality, Sanat Nagar, local Sikhs come out every evening with dates and water, and offer them to Muslims for breaking the fast.
A roadside stall put up by the Sikh community displays the message, "Recognise the entire Human race as one."