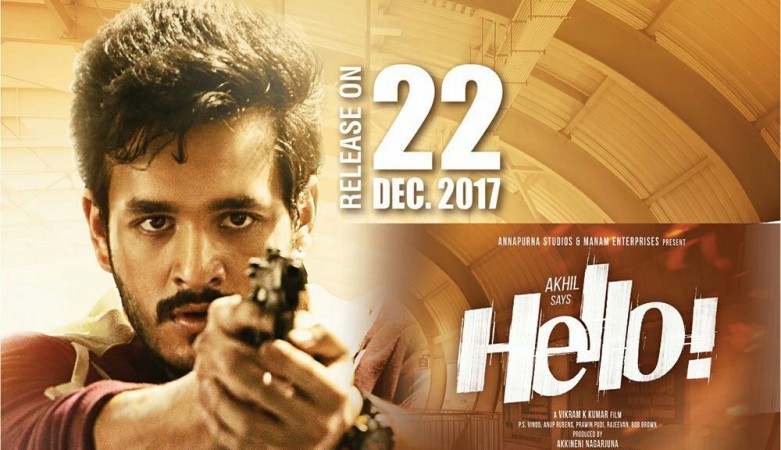 Akhil Akkineni's Hello has fetched a record price for its worldwide theatrical rights, which is much bigger than the prices of popular actors like Ravi Teja, Nagarjuna, Varun Tej and Nani's recent movies.
Akhil Akkineni made his acting debut with Akhil: The Power of Jua, which was expected to give him a big break but turned out to be utter flops at the box office. He took a long time to find a good script and is returning to big screen after two years. He has left no stone unturned to make it a big success at the ticket counters.
On top of it, Akkineni Nagarjuna himself has taken the responsibility of giving a break to Akhil. Besides bringing Manam fame director Vikram Kumar on board, he went on to produce Hello with a whopping budget of over Rs 25 crore under his banner Annapurna Studios. In fact, he is said to have shelled over Rs 2 crore on the making of one of its action sequences.
The posters, teaser, trailer and songs of Hello have impressed the film-goers and created a lot of curiosity and expectations about the movie. The hype had reportedly created a huge demand for its theatrical rights of various regions and several leading distribution houses were said to be in the race to bag its rights.
Hello is scheduled to be released in the cinema halls on December 22 and the makers have reportedly sealed the deals on the sales of its theatrical rights for various areas around the world. If we are to go by the reports, the Vikram Kumar-directed romantic action thriller film has fetched Rs 32 crore from the sale of its global distribution rights.
If we are to believe these reports, the price of the theatrical rights of Hello is one of the top 10 highest prices paid to Telugu movies in 2017. However, this price is much bigger than that of Raja The Great, Winner, Raju Gari Gadhi 2, Vunnadhi Okate Zindagi, Mister and Ninu Kori, which hold the highest amount for Ravi Teja, Sai Dharam Tej, Nagarjuna, Ram, Varun Tej and Nani.
Here is a table detailing the area-wise theatrical prices of Hello, Raja The Great (RTG), Winner, Raju Gari Gadhi 2 (RGG2), Vunnadhi Okate Zindagi (VOZ), Mister and Ninu Kori. These numbers are based on various reports and they may not match with the actual figures released by their makers. All the figures are Rs and crore.
| | | | | | | | |
| --- | --- | --- | --- | --- | --- | --- | --- |
| Area | Hello | RTG | Winner | RGG2 | VOZ | Mister | Ninu Kori |
| Nizam | 9.00 | 8.50 | 6.50 | 7.25 | 6.30 | 5.50 | 5.50 |
| Ceded | 4.50 | 5.50 | 4.40 | 3.60 | 3.60 | 3.50 | 2.30 |
| Vizag | 3.20 | 3.13 | 2.70 | 2.40 | 2.40 | 2.50 | 1.70 |
| G East | 2.20 | 2.00 | 1.80 | 1.50 | 1.40 | 1.50 | 1.20 |
| G West | 1.80 | 1.75 | 1.60 | 1.25 | 1.20 | 1.40 | 0.95 |
| Krishna | 2.10 | 2.00 | 1.70 | 1.70 | 1.40 | 1.70 | 1.20 |
| Guntur | 2.26 | 2.50 | 2.20 | 1.90 | 1.60 | 2.00 | 1.40 |
| Nellore | 1.10 | 1.12 | 1.10 | 0.80 | 0.70 | 0.90 | 0.65 |
| AP/TP Total | 26.50 | 26.50 | 22.00 | 20.40 | 18.60 | 19.00 | 14.90 |
| Rest of India | 2.50 | 3.25 | 1.80 | 2.20 | 1.90 | 1.50 | 1.60 |
| Overseas | 3.00 | 1.75 | 1.20 | 1.40 | 1.50 | 1.00 | 3.50 |
| Global Total | 32.00 | 31.50 | 25.00 | 24.00 | 22.00 | 21.50 | 20.00 |