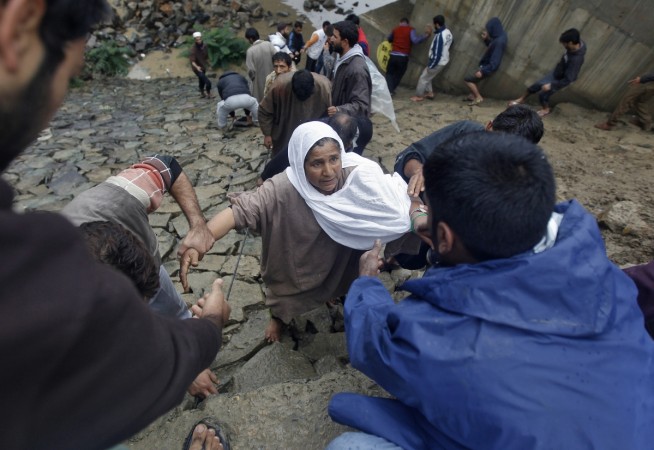 While India is yet to recover from the torrential rain in Jammu and Kashmir, the Indian Meteorological Department has predicted heavy to very heavy rains in Gujarat, Maharashtra, West Madhya Pradesh and Goa in the next few days.
In Andhra Pradesh and Telangana, river Godavari is already flowing above the danger mark.
The department said that with the southwest monsoon remaining powerful over Madhya Pradesh, Vidarbha and active over Marathwada and Telangana, few places in these regions are expected to receive "extremely" heavy rains on Tuesday and Wednesday, PTI reported.
Heavy rains in the next two days for Andaman and Nicobar Islands, Assam and Meghalaya, East Rajasthan, coastal Karnataka, Himachal Pradesh and Uttarakhand have also been predicted.
The department's monsoon trough passes over Chittorgarh, centre of well-marked low-pressure area over southwest Madhya Pradesh and adjoining north Maharashtra, Raipur, Paradip and towards east central Bay of Bengal
Meanwhile, in Andhra Pradesh, heavy rains have lashed the two Godavari districts, where more than 76 villages have been inundated, cutting off the people from the rest of the country.
Danger signals have been released to people living in low-lying areas of Godavari in the state, as water levels of the river have reached danger-levels at Bhadrachalam and Sir Arthur Cotton Barrage at Dhavaleswaram, Rajahmundry.
The State authorities were seen shifting people from low-lying areas of the river to safety. Several villages are likely to be flooded by Tuesday due to the increasing levels of the river, officials said.
The Andhra Pradesh government has alerted its officials and sent them to the Godavari basin, who are taking all precautionary measures and required rehabilitation works for people in advance.
Fishermen have also been asked to take utmost care while venturing into the sea as winds were blowing at a speed of 45km to 50 km.
In Karnataka, torrential rains have lashed Shiradi ghat and Kukke Subrahmanya temple areas. The Karwar-Yesvantpur train which started for Bangalore was stranded at Nettana station on Saturday as a rail track was damaged in Shiradi ghat due to a landslide in the hill area.
Then the passengers from the train were assisted with KSRTC buses to reach Bangalore on Saturday. South Western railway officials said that the track damage was noticed by a goods train pilot, who informed the authorities immediately, after which the train was halted at Nettana.