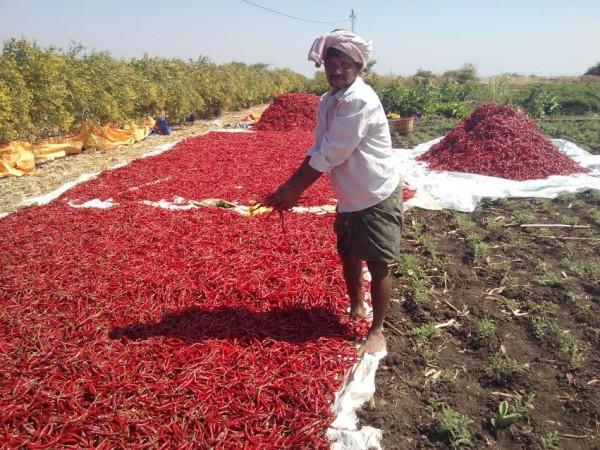 In 2016, Mahaboob Basha, a farmer from a small village called Lakshmapuram in Andhra Pradesh got 8,000 kg of green chili every 15 days in a mere 1.5 acres of farmland. The Chief Minister, Chandra Babu Naidu, even felicitated him with a "Best Farmer" award for the year. During the same year, his district was hit by severe drought. All the farmers in Lakshmapuram received drought compensation while Basha made profits.
Last year, more than 8,000 farmers in India killed themselves. Debt, crop failure, illnesses and social pressure plague the farmer of our country. Loan waivers have not changed the situation for the marginal/landless farmer. With the Green Revolution in the 60s, we may have managed to achieve food security in the country, an absolute necessity then, but the same chemical fertilizers and pesticides and hybrid seeds, a.k.a, the High Yield Variety have polluted our waters, depleted the soil of essential nutrients and adversely impacted the eco-system.
With zero necessity for a loan and huge profits, in a drought-hit, water scarce district at that, small farmers in Andhra's Kurnool district are changing the very narrative of agriculture in India. Their crops thrive in drought and in floods, their investment is a bare minimum and their methods are environment-friendly!
Sanjeev Reddy, from the same drought-hit district, took a loan of 2 lakhs as an investment for 26 acres of his farmland. He managed to repay the loan in exactly 60 days. Sheikh Shah Ali, also a marginal farmer, also from Kurnool, made 14 lakhs in 10 months through red chilli. His crop earned him 15,000 per quintal, while the rest of his peers were making only 9,000.
As of 2017, Basha and 1, 400 other farmers from 33 villages in Kurnool District are reaping the benefits of a new movement gaining momentum across the country. They say that they owe all their bountiful produce and profits to Sri Sri Natural Farming. In Kurnool over 4,000 farmers have been trained in traditional methods of cultivation by Sri Sri Institute of Agriculture Sciences and Technology (SSIAST) and 1400 of them have made the shift from chemical cultivation.
Uyyalawada, another village in the same district saw a remarkable 2 ½ times the normal yield of crops like cotton, sunflower, black, green and red gram, even when there was no rain for 42 days at a stretch. Crops of most of the other farmers withered away. We're talking of a village with no wells and no irrigation system. There is groundwater at a depth of 1000ft., and have about 5 bore wells in the entire village. Natural farmers' incomes have tripled despite adverse climatic conditions.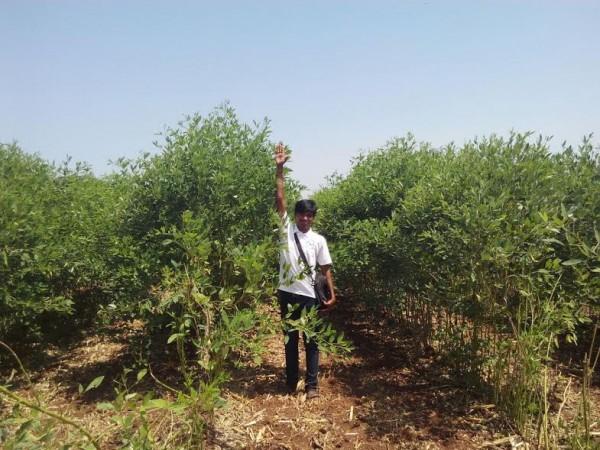 Natural farming methods weave farming into pre-existing symbiotic relationships in nature. For example, pulses and cereals can be grown together on the same land, because bacteria on the roots of the pulses fix atmospheric nitrogen in the soil, an essential nutrient for the cereal. Concoctions like the Jeevamrut made from the indigenous cow's dung and urine contain microbes that help break down nutrients present in the soil for easy consumption by the crop, in return for a longer lifespan for the microbes. It's a win-win! This project, 'Sri Sri Natural Farming' borrows from the wisdom of the Vedas and our ancient Rishis, methods coming from a deep understanding of how nature enables life through mutually beneficial relationships.
On being asked what it is that makes the project tick, Prabhakar Rao, a Trustee of SSIAST says, "It is our commitment to help the farmer throughout the crop cycle. We give them personalized inputs based on the region and the season. We are able to do this because we have created a complete social ecosystem for the farmer."
The organization has engaged with the community on many levels through Youth Leadership Training Programs (YLTP) and meditation workshops for the community. YLTPs have created large groups of Yuvacharyas (volunteers) who work towards social projects that are locally relevant such as river rejuvenation and water conservation, bringing electricity through solar power, Swach Bharat and de-addiction drives.
"It is this community support that has made it easier for the farmer to adopt natural farming. We have merely enabled individuals to become agents of transformation, and have made it easier for them by simultaneously working on so many verticals," says Ramakrishna Reddy, Chairman of the Trust, a septuagenarian spearheading the project.
Yuvacharyas focus on specific tasks like making Jeevamrut or bio-pesticides like the Neemastra, Brahmastra, etc., enabling the farmer to sustain natural farming. Natural farming trainers are created from within the community itself. Villagers also gather once a week to meditate or have a Satsang and sing bhajans.
Sanjeev Reddy from Uyyalawada, is very grateful for the continuous mentorship he received. "Although I have previously attended Natural Farming workshops, it was the mentorship provided by SSIAST that gave me the confidence to switch to Natural Farming. Most people are scared to try something new, despite continuous losses. But I had my family's support and decided to take a risk. My input cost went down by 4 lakhs. With chemical farming, I would've gotten 8 quintals of cotton, but this time, with Natural Farming methods, I got 32 quintals. Jeevamrut kept my crop alive even when there was no rain for 42 days. I'm going to tell as many people as I can," he says, with conviction.
Those who have been trained by the organization are all small and marginal farmers, who own less than 5 acres of land. Typically, they spend up to 10,000 per acre on seeds, fertilizers, and pesticides. But with the help of the great Indian cow, their costs have come down to about 1,000 per acre. They need about one-fifth of the water they previously needed for cultivation. In spite of drought-like situations, when crops of every other farmer in the region have failed, these farmers stand as a beacon of hope, getting a healthy, disease-free, chemical residue-free crop, making profits when the rest of the farmers get drought-compensation from the government.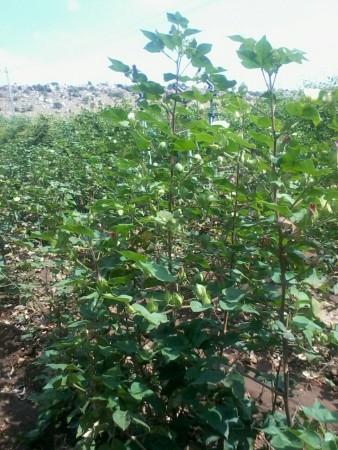 Initially having received permission to take up a pilot project only for 3 months, the project has now been extended for five years by the Government of Andhra Pradesh. With 1400 farmers and 1,800+ acres of land under cultivation currently, the mentorship model has been widely successful. All of this has been achieved in one and a half year. They're being invited to train farmers in other states, and recently kicked off a training program for 200 farmers in Chikmagalur in Karnataka.
Click here to check out the pictures of these farmers & their produce

(with inputs from Mansi D, AOL)