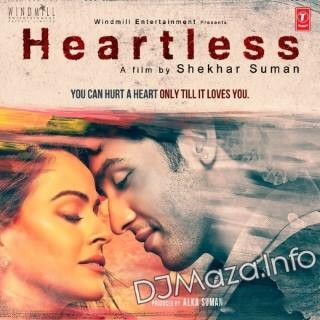 Shekhar Suman's directorial debut film "Heartless" has failed to impress the critics upon its release. The film, which stars Adhyayan Suman and Ariana Ayam in the lead roles has received mediocre reviews from commentators.
"Heartless" is a medical thriller and focuses on a condition called "anesthesia awareness" where a patient can't move his physique, yet can hear and see all that is happening around him/her.
The film also features Om Puri, Deepti Naval and Shekhar Suman in important roles.
Check out the critics' reviews here:
Mohar Basu of Koimoi.com said: "If you want to watch a great film that Shekhar Suman was attempting on , watch Awake but definitely stay miles away from this convoluted, terrible affair. Shekhar Suman is clearly cut out for wit but in his maiden venture the director shows no flair of the intelligence he is known for. Watching the film was a punishment of sorts and despite a notable ensemble cast, Adhyan Suman's half hearted plastic performance with Ariana Ayam's tryst to match up Adhyan's bad acting fails the film frustratingly.
"Roger Ebert has written about Awake that it was a lethal film. Shekhar Suman perhaps took the cue to replicate the same but the distasteful disaster he creates is sad.
"For script, the writers have lazily lifted every possible move from the Hollywood thriller. Is there any originality in the film? Definitely no. If someone has watched Awake, they should stick to it because Hayden Christensen and Jessica Alba do a mighty fine job in comparison to the doom we are forced to watch.
"Shekhar Suman's Heartless is a disappointingly flat film. With the story lacking novelty and the filmmaker failing to fill in anything new or intelligent in it, the film loses mostly because of Adhyayan Suman and his on screen lady love Ariana Ayam. Awake had me haunted for days, Heartless too does the same with equal intensity just in an entirely different sense."
Meena Iyer of The Times of India said: "Shekhar Suman's directorial debut Heartless is inspired by the Hollywood medical thriller Awake. The film, nicely adapted and understated (except for the misplaced title track) deals with the disturbingly real phenomenon of anesthetic awareness in which surgery patients, though paralyzed are conscious of everything they are experiencing including pain. It's an absorbing thriller. And one doffs one's hat to Shekhar for handling this difficult subject with such finesse.
"Though lavishly mounted, the first half is routine with emphasis on the rich-boy-meets-poor-girl angle. Post intermission, the real plot is unravelled. Though the twists in the tale rest largely on a dry medical fact, the film becomes a thrilling roller-coaster ride with terrific punches. The mother-son relationship is emotionally gratifying. In a lighter vein, it's Adhyayan's turn to borrow a line out of Yash Chopra's Deewar and preen like Shashi Kapoor did, saying, "Mere paas maa hai."
Prateek Sur of Bollywood Life said: "There are some movies that make you want to stay in the theatre to watch the whole thing and beyond. Then there are some for which you want a refund of your ticket money. Then there is a middle path, where you think its okay-okay and cannot decide to leave or to stay. Heartless, starring Adhyayan Suman and Ariana Ayam and directed by Shekhar Suman is a mix of all three.
"The plot has more holes in it than a tea strainer. As someone who knows a little about medicine, I felt that there should have been a warning label attached to the movie just after the disclaimer, reading: Don't watch this film if you have any knowledge of surgery or are with someone who does. In the first case you would spend the entire length of the film huffing with annoyance and in the second, you would be wondering why your companion is rolling his/her eyes skyward throughout.
"This movie is a good enough medical thriller with some not so good acting by the leads, along with a lot of shortcomings in the script. It is, however, different from the high flying action masala South remakes that Salman Khan specialises in."
Taran Adarsh of Bollywood Hungama said: "HEARTLESS narrates the story of Aditya aka Addy [Adhyayan Suman], who lives with his dominating, but caring mother Gayatri [Deepti Naval]. While on a business trip to Dubai, Addy falls in love with Riya [Ariana Ayam], who works at the plush hotel he resides in.
"There's no denying that Shekhar borrows from AWAKE, but he gives an altogether different spin to this genre. Let it be known that HEARTLESS is not the usual run of the mill love story, nor can you guess what's in store as the plot thickens. At least those who aren't aware of AWAKE wouldn't be in the know of the basic premise of the film.
"On the whole, HEARTLESS is made with a lot of heart, but appears partly engaging. Shekhar Suman, the director, knows his job, but the writing lets him down. However, what you carry home is the wonderful performance by Adhyayan."