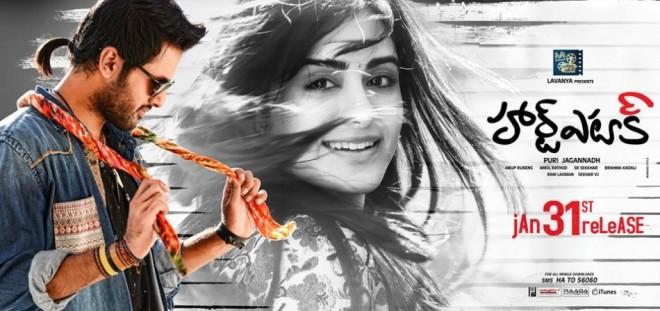 Puri Jagannadh's recent release "Heart Attack" has received mixed reviews from critics. The film, which is a romantic action thriller, has been written, directed and produced by Jagannadh.
The film features Nithiin and Adah Sharma in the lead roles. The film marks the debut of Adah Sharma in Telugu films, who shot to fame with her Bollywood film "1920".
Read the reviews here:
S Viswanath of Deccan Herald said: "This Heart Attack won't be the end of the world for you. Instead, if you relish and revel in Puri Jagannadh brand of ensemble entertainment, it would do good to indulge in this Heart Attack with its action surcharged romantic saga it lights up the screen with. Marked with style, but woefully lacking in substance, Heart Attack assails your EQ senses every which way and how you singularly savour its fanciful do is your go.
"Given that the first half is racy and fast-paced, one can pardon the pedestrian and puerile second half. Grace if you must, lest listen to iTunes and be happy from suffering any Heart Attack."
Raja Satish of Desi Martini said: "Most part of the film hovers on the zone of a 'style sans substance' ensemble alongside moving at a neck-break speed.
"The movie explodes with a bang of illicit trade of women in Goa. In recent times, every film has made the beautiful Goa look like a moll - dirty, used, and enticing with a dubious distinction for all the wrong reasons. Then it moves to Spain. It seems after Thailand Puri has found his muse in this European country.
"At times, Heart Attack seems like a mash up of Iddarammayilatho and Pokiri and most of Puri's previous films. There are some racist overtones and the film went for a heavy in-film brand placement of Craigslist. So, next time when you need a job you know where to look for."
Sridhar Vivan of Bangalore Mirror said: "If you are watching this film, then you can be sure of not getting a heart attack though you may be at the risk of having a headache. We really wonder if it's the same Puri Jagannadh (hits like Pokkiri) who came up with a film like Heart Attack. Leave the story, there is hardly any comedy (despite Ali trying his routine comedy strip), the even punch dialogues seem to have gone for a toss.
"For most part of the first half, we are clueless on what's happening next. Given Puri's track record, we keep expecting a twist, but the biggest twist is that there's no twist at all. The film tries to pick up steam in second half before it becomes too predictable. Before you take a deep breath, the best thing happens -- the curtain comes down."
Karthik Pasupulate of The Times of India said: "The entire first half of the movie is designed to be a build up to an impending lip lock. Since setting his eyes on a bandana clad Hayati at a picturesque port side in Spain, Varun is consumed by the desire to, well, kiss her.
"The cinematography and music is what makes it seem much better than it really is. The visuals are breathtakingly beautiful. The hangover of Iddarammayilatho notwithstanding, the imagery of the most scenic landscapes of Spanish country side and the dark underbelly of Goa offers an indulgent backdrop for the proceedings. Music by Anoop Rubens is perhaps the most romantic aspect of the film."