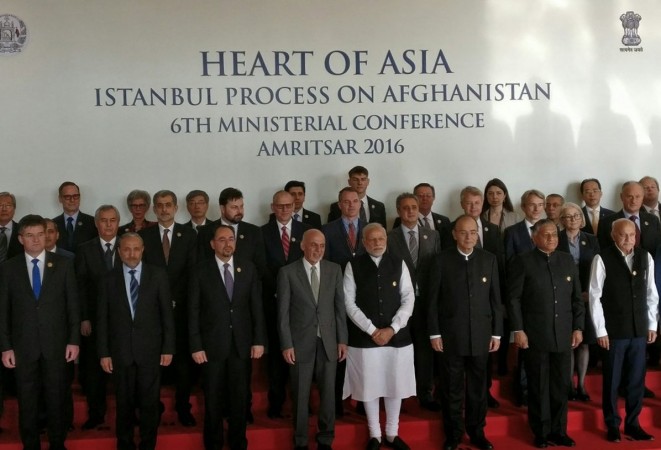 Prime Minister Narendra Modi assured Afghanistan of India's support during the Heart of Asia-Istanbul Process conference, where foreign ministers from eight countries and other dignitaries from 14 participating countries were present.
Prime Minister Narendra Modi and Afghanistan President Ashraf Ghani held bilateral talks before the joint inauguration.
Pakistan's Sartaj Aziz also arrived in India, but ahead of the schedule creating buzz around the reason for it. Earlier, a top diplomat from Pakistan was scheduled to arrive in Amritsar on Sunday.
There wouldn't be any formal bilateral talks between India and Pakistan at the conference.
12:08 pm IST: Modi says in conclusion 'let us dedicate ourselves to making Afghanistan a geography of peace'.
12:07 pm IST: Modi says for every day #India helps #Afghanistan, it is helping itself create a more peaceful and secure region.
12:06 pm IST: There will soon be an air cargo corridor between India and Afghanistan.
12:05 pm IST: As such, support for voices of peace in Afghanistan alone is not enough. It must be backed by a resolute action. Not just against forces of terrorism but also against those who support, shelter and finance them.
12:04 pm IST:
PM on the record of India's partnership to projects: Our commitment to our brave Afghan brothers and sisters is absolute and unwavering pic.twitter.com/d9z7rr8Rhs

— Vikas Swarup (@MEAIndia) December 4, 2016
12:02 pm IST: We must demonstrate strong collective will to defeat terror networks that cause bloodshed and spread fear. Silence and inaction against terrorism in Afghanistan and our region will only embolden terrorists and their masters. We should all work to build stronger positive connectivity between Afghanistan and other countries of the region.
12:00 pm IST: Peace and stability of entire region and beyond hinges on a secure Afghanistan, said Modi.
11:58 am IST: Focus is to secure Afghanistan's terrority and citizens from threats and ensuring it has prosperous future, said Modi. Despite all successes much more needs to be done and 'we must build on gains of last 15 years'.
11:56 am IST: Prime Minister Narendra Modi said, Our words and actions remain focused on helping Afghanistan.
11:54 am IST: Ghani said the undeclared war has been intensified in 2016, especially after Brussels conference. Response of states has been fragmented. Some still provide sanctuary or support to terrorism. We need intense dialogue and engagement so as to tackle criminal economics regionally. This must be done without the blame game. We need to identify cross-border terrorism and a fund to combat terrorism. Such a fund could be very well used to fight terrorism. This could help make Afghanistan and Asia secure.
11:50 am IST: Afghanistan suffered the highest number of casualties last year. This is unacceptable. About 30 terrorist groups, as named by the UN, are trying to establish a base in Afghanistan, Ghani said.
According to Prasar Bharti, Afghanistan will be seeking more military hardware from India.
11:45 am IST: India's support to Afghanistan is aimed at improving people's life and is transparent with no strings attached, said Ghani.
11:40 am IST: The project of Chabahar Port between India, Afghanistan and Iran is very important to us for connectivity, Ghani said. India's help is with no strings attached. Heart of Asia is meeting at a time of great opportunity in significant threats for Afghanistan for Asia-wide and global implications.
11:35 am IST: Afghan President Dr.Ashraf Ghani also spoke at the 6th Ministerial Conference of Heart of Asia.
11:30 am IST: There is much to be done to tackle challenges like terrorism and radicalism, said Salahuddin Rabbani, Afghan Foreign Minister.
11:25 am IST: Finance Minister Arun Jaitley welcomes delegates at Heart of Asia summit in Amritsar
11:20 am IST:

Amritsar: Leaders attending #HeartofAsia summit pose for a family photograph pic.twitter.com/SYjY2aPrxM

— ANI (@ANI_news) December 4, 2016