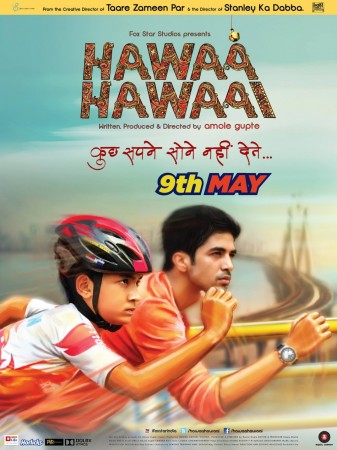 Amol Gupte's recent released film "Hawaa Hawaai" has not received as good reviews as his previous film "Stanley Ka Dabba," but the film is worth a watch.
Critics have given mediocre reviews to "Hawaa Hawaai," but praised child artist Partho Gupte for his matured performance.
The film also features Saqib Saleem who plays the role of a skating coach to Gupte.
Read the critics review here:
Shubhra Gupta of Indian Express said: Partho Gupte's second outing in his father's second directorial venture "Hawaa Hawaai," should have been a clear winner by rights: he is excellent; so are several of the other performances, but the film doesn't match up.
This is the kind of film where we know the outcome from the first frame. We know that Arjun will, by the end of the film, be skirting the winning tape. But Gupte's Arjun and his gang do not deliver enough surprises: there's heavy-handedness afoot, if you'll allow the mix of metaphors.
"Hawaa Hawaai" has a big beating heart, but you wish it had been a better film: it trundles on, leaps up intermittently, but doesn't fly.
Sarita A Tanwar of DNA said: "Hawaa Hawaai" has all the ingredients for an absorbing and touching film that anyone who has ever had a dream can relate to.
There is a fine line while telling an emotional story between moving and manipulating, and here the director fails us. After a point you begin to feel like too many emotional devices are being used.
Everyone who cribs that Bollywood doesn't attempt good films, must go see this.
Mohar Basu of Koimoi.com said: Probably the most innocent film that has been made since Stanley Ka Dabba, this one is brimming with hope and optimism. The fascinatingly well done casting is an aide as each character is wonderful.
A hard-to-believe climax doesn't quite fit in with reality but Gupte's attempt to make this an appeasing outing for the younger section of his cine goers.
"Hawaa Hawaai" runs the risk of being compared to Gupte's previous works but as a standalone it is without doubt one of the most brilliant works of recent times. Subtle and empowering with delectable performances of Saqib & Partho adding power to the film, here's one ultimately satisfying movie that will win you over with its bittersweet and spirited work.
Tanushree Bhasin of Firstpost said: Amol Gupte's grip over how children think, behave and feel is far beyond any other director in the film industry. Which is why his films, though about children, are never actually childish.
The film is saturated with a lot of love, tenderness and melodrama and for most part it works to bring the script alive. Partho Gupte, who seems to have become a much better actor since Stanley ka Dabba, gives a very mature performance and keeps you hooked on Arjun's struggles throughout.
I did feel that he did go a little over the top, sticking to a predictable underdog story line. Stanley ka Dabba, was in many ways a far more restrained, nuanced and subtle film that really shocks and pains you. "Hawaa Hawaai" doesn't quite have the same effect but it's still a film that plays to win and has its audience firmly on it's side, laughing, crying, cheering and praying for the boy to finally fly.
Taran Adarsh of Bollywood Hungama said: "HAWAA HAWAAI" narrates the story of Arjun Harishchandra Waghmare aka Raju [Partho Gupte], who takes up the job at a tea stall after his farmer-father's [Makarand Deshpande] demise. A chance encounter with Lucky [Saqib Saleem], a coach, who trains young kids in rollerblading, and Arjun aka Raju starts dreaming of learning the sport.
From hereon begins a heart-warming story of five daily wage earner kids and their battle not for survival, but for living their dreams. Amole directs with a sure eye, while the screenplay [it holds you attentive for most parts] is far removed from frivolity attached to a majority of Hindi movies.
On the whole, "HAWAA HAWAAI" is a gem that shouldn't be missed. A wonderful creation with heartrending emotions, this one's inspirational and motivating. Strongly recommended!
(Ed:AJ)