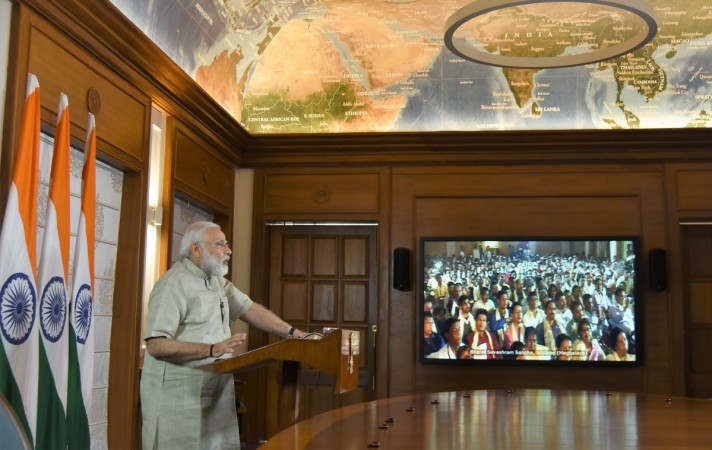 Prime Minister Narendra Modi on Sunday said that the Centre wants to make the Northeast a gateway to Southeast Asia for which major infrastructure projects have been initiated in the seven states of the region. He observed that the northeast region had not undergone much development since Independence and said that his government would bring about a balanced development of states in the region.
Projects include an investment of Rs 40,000 crore for the improvement of roads and highways and 19 big railway projects, the PM added. "We are also improving the electricity situation in the northeast and trying to bring even more tourists to the region," Modi said adding that the focus would be on to improve connectivity in the region and develop it for tourism purposes.
Modi, however, expressed disappointment over Gangtok being the "only" city to have "found a place in the first 50 clean cities", out of the 12 cities from the northeast that were included as part of the recent nationwide cleanliness survey. Four cities in the region were among the 100 and 200 clean cities, while seven of them found a place between 200 and 300 clean cities.
The prime minister, while addressing the centenary celebrations of voluntary organisation Bharat Sevashram Sangha in Shillong through video conferencing, said that the dream to "make the Northeast a gateway to Southeast Asia" would not be realised if this "gateway" was dirty, the Press Trust of India (PTI) reported. The PM also urged citizens and other organisations to assist in the cleanliness campaign as it was a major challenge for every individual in the region.
Modi also announced that the Northeast region would soon be connected through the UDAN scheme launched by the Centre recently. He added that small airports were being set up in the region and that the extension of the runway at Shillong airport has also been approved.
The prime minister appreciated the efforts made by the Bharat Sevashram Sangha to help citizens during natural disasters and said: "Some people tried to tell that those who are in the spiritual path are different from those on the way of providing service to the humanity, but the organisation has proven all those people wrong through their social activities."
The organisation has over 100 branches and more than 500 units which are involved in social service in the health and education sectors as well as in training youngsters in the region, Modi said. He also lauded the efforts of the organisation in providing relief to the people during calamities like the Bengal famine of 1923, Noakhali riots of 1946, Jalpaiguri floods of 1950, Anjar earthquake in 1956, Andhra Pradesh cyclone in 1977 and Bhogal gas leakage in 1984.