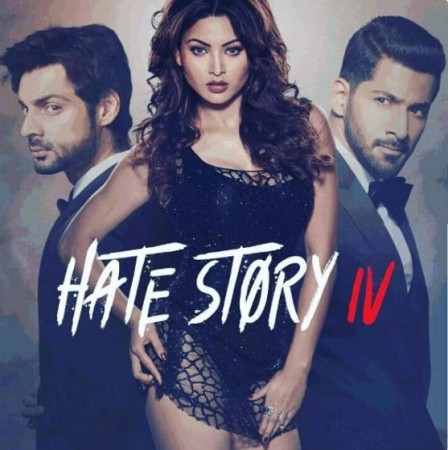 Hate Story 4, which released on Friday, March 9, has received mixed reviews from the audience, who watched the first-day first show.
Starring an ensemble cast of Urvashi Rautela, Karan Wahi, Ihana Dhillon, Vivan Bhatena and Gulshan Grover, the movie is the fourth installment of the hit franchise Hate Story.
While many viewers say that the movie is not entertaining enough and the performances too are not impressive, others say it's worth one time watch.
Hate Story 4 trailer that has crossed over 35 million views in record time, gave a hint that the movie is the right mixture of bold scenes, interesting plot and will leave the audience at the edge of their seat.
Just like the previous films, Hate Story 4 is an erotic thriller. The film narrates the story a supermodel Urvashi, who is in love with Karan's character, a photographer. It is a revenge story where two brothers fall for the same girl.
The film clashes with three other movies, Dil Juunglee, 3 Storeys and Baa Baaa Black Sheep, at the theatres.
Take a look at some of the Hate Story 4 reviews by the viewers on Twitter:
#QuickReview #HateStory4 She's rather well fed and mostly clad in lace, the two bearded men are generic. dialog=hilarious if you're drunk. watch it if you never want to kiss again.

— manishalakhe (@manishalakhe) March 9, 2018
#HateStory4 : #OneWordReview....
Exciting, Engaging, Promising.
It's an out an out entertainer.
Full paisa-vasool movie.
⭐️⭐️⭐️⭐️

— Roshan Goswami (@iRoshanGoswami) March 9, 2018
Movie Review - #HateStory4

Story and Screenplay of the film is the most weakest part of the film. First Half of the film is very slow. Urvashi Rautela looking stunning in the film. Karan Wahi is decent in the film. Music of the film is already hit.

Rating 2/5

— Siddharth Mathur (@TheSidMathur) March 9, 2018
It's indeed a intriguing H?TE Story.. Awaiting the twists to be unfolded ??? Interval #HateStoryIV https://t.co/RaVFQ64t8F

— Smriti Singh (@RjSmritii) March 9, 2018
#MovieReview #HateStoryIV
Half English & Half Hindi Dialogues So far....Story is okay
.@urvashimrautela #UrvashiRautela @karan009wahi @VivanBhathena @TSeries @ihanaofficial @HateStory_IV @ivishalpandya @GulshanGroverGG #hatestory4

— Box Office Stats (@boxoffice_stats) March 9, 2018
#HateStory4 - Boring, not entertaining, bad performance by the actors....flop story@DMmovies

— Usha Shrivas (@UshaShrivas) March 9, 2018
#HateStory4 B grade Bhojpuri film hai ??

— Gaurav Kadam (@gk0012) March 9, 2018
Who wrote Dialogues for #HateStory4, its just a crap ?

— Rakesh Sharma (@tweet2rakesh) March 9, 2018
#MovieReview #HateStoryIV
Half English & Half Hindi Dialogues So far....Story is okay
.@urvashimrautela #UrvashiRautela @karan009wahi @VivanBhathena @TSeries @ihanaofficial @HateStory_IV @ivishalpandya @GulshanGroverGG #hatestory4

— Box Office Stats (@boxoffice_stats) March 9, 2018
#HatestoryIV - As expected, its another film in the series of technically upgraded sleaze.

The new millennium version of the C grade, morning show films of the 80s.

:(

— Bobby Talks Cinema (@bobbytalkcinema) March 9, 2018
Stay tuned for more updates