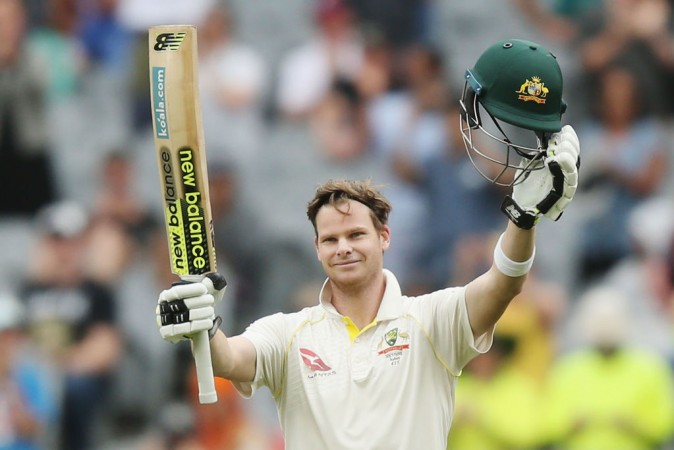 Throughout the year 2017, the biggest debate in world cricket revolved around two of the best batsmen of modern era - Virat Kohli and Steve Smith. Who is the best between them? The answer to this is still not known for experts but the Australian has certainly won in one place.
Smith, for the third consecutive time, ended the calendar year as the number one Test batsman in the International Cricket Council's (ICC) Rankings. 2015, 2016 and 2017 saw the Australian right-hander rule the rankings charts.
This year, Smith scaled new heights in ICC Rankings. He is now only behind the legendary Sir Don Bradman as far as rating points are concerned. The 28-year-old has the second highest ever rating points of 947. Only Bradman is ahead with a world record of 961.
India's Kohli rounded off the year as the second best behind Smith with 893 points. He scored 1,059 runs (average 75.64) in 10 Tests in 2017. He hit five hundreds and one fifty.
Smith accumulated 1,305 runs at 76.76 in 2017 from 11 Tests. He is the top run-getter in the calendar year. He scored six hundreds and three fifties.
What was astonishing about Smith in 2017 was that he remained as the Test number one batsman for the entire year. He ruled the top spot for 365 days. It is really hard for any batsman to maintain such consistency but Smith has done it.
This was the main reason why former Australian cricketers Steve Waugh, Ricky Ponting, Shane Warne and others picked Smith as the best in Tests over Kohli.
The Indian right-hander, however, gets the vote in the limited-overs format. He has enjoyed a great run, scoring centuries at will. He has already stacked up 32 tons in ODIs and overall 52 in international cricket. He is the number one in ODIs and T20Is in ICC Rankings.
While the debate continues as to who is the top batsman in Tests, Smith, at the moment, has claimed that throne.
It will be interesting to see how Kohli progresses in 2018. When will he topple Smith in ICC Rankings?
Highest run scorers in Tests in 2017
1. Steve Smith - 1,305 runs (11 Tests, 20 innings) - 6 hundreds
2. Cheteshwar Pujara - 1,140 (11, 18) - 4 hundreds
3. Dean Elgar - 1,128 (12, 21) - 5 hundreds
4. Virat Kohli - 1,059 (10, 16) - 5 hundreds
5. Dimuth Karunaratne - 1,031 (13, 26) - 3 hundreds
ICC Test Batsmen Rankings (as on 31 December, 2017) - Top 10
(Read as Rank (+/-) Player Team Points Average Highest Rating)
1. ( - ) Steve Smith (Australia) 947, 63.55, 947 v Eng at Melbourne 2017
2. ( - ) Virat Kohli (India) 893, 53.75, 895 v Ban at Hyderabad 2017
3. ( - ) Cheteshwar Pujara (Ind) 873, 52.96, 888 v SL at Nagpur 2017
4= ( - ) Kane Williamson (New Zealand) 855, 50.62, 893 v Aus at Perth 2015
(+1) Joe Root (England) 855, 52.45, 917 v Aus at Trent Bridge 2015
6. ( - ) David Warner (Aus) 831, 48.72, 880 v NZ at Perth 2015
7. ( - ) Hashim Amla (South Africa) 776, 49.61, 907 v Pak at Abu Dhabi 2013
8. (+9) Alastair Cook (Eng) 759, 46.52, 874 v Ind at Kolkata 2012
9. (-1) Azhar Ali (Pakistan) 755, 46.62, 787 v Aus at Melbourne 2016
10. (-1) Dinesh Chandimal (Sri Lanka) 743, 43.94, 743 v Ind at Delhi 2017