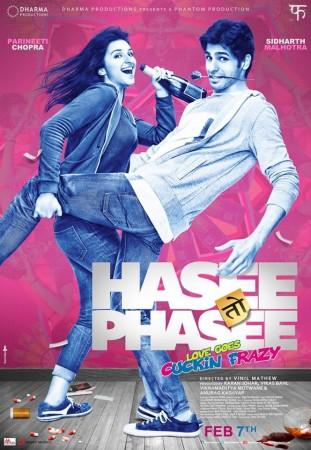 "Hasee Toh Phasee" starring Parineeti Chopra and Sidharth Malhotra has mostly received positive reviews from critics upon its release. The film which is romantic comedy has been appreciated by critics for its fresh and experimental storyline.
The pre-release buzz has been in favour of the film and even the opening day reviews are positive.
"Hasee Toh Phasee" is Vinil Mathew's debut directorial jointly produced by Karan Johar's Dhaarma Production and Phantom Productions.
The film also features Adah Sharma, Manoj Joshi, Sharat Saxena and Neena Kulkarni in important roles.
Read the critics reviews here:
Meena Iyer of The Times of India writes: "Hasee Toh Phasee is for the romantics who like their martinis stirred not shaken. Debutant director Vinil Mathew's straight-forward approach is smart and fresh; his characters are lovable. Nikhil(Sidharth Malhotra) is an optimist, who believes once committed, there's no straying. Meeta( Parineeti Chopra) is a non-conformist; she's a go-getter in her personal and professional space. Naturally Nikhil and Meeta's ideologies don't match. But there's an under-current in their equation that keeps the audience hoping they that they will seek each other out.
"If you're looking to rediscover the magic of goofy love around Valentines, give HTP a shot. You may not like this film if you are a die-hard romantic who only subscribes to Bollywood formula."
Mohar Basu of Koimoi.com writes: "The film is both pleasantly surprising and utterly baffling in equal amounts. Though Vinil Mathew's direction might not be perfect due to his lack of experience, Hasee Toh Phasee will definitely win your heart for the symbiotically arranged, pitch perfect chemistry of Parineeti Chopra and Sidharth Malhotra. It was passionate and compelling, almost to make me wish that they were a real life couple and that alone becomes the winning shot. Though Parineeti walks away with the thunder for her stellar performance, the film works primarily and mostly because it is so refreshingly lovable.
"Thankfully the movie wasn't much of a knock off contrary to what you'll expect from usual romantic comedies. Though you can find inklings of the formulaic ideas typical to the genre, the story is unusual. It is unexpected that in times when the industry is infested with clone-ish designs, there is a film that sticks strictly to the most commonplace genre and tries creatively something new with it.
"Boy meets girl is often the most overused, mainstream , rom-com idea but Vinil Mathew's treatment makes Hasee Toh Phasee flourish as a winner. I was disappointed with many parts but overall the film stayed with me longer than I expected it to. Sidharth's subtle charm and Parineeti's crackling yet astonishingly stunning performance are the biggest attributes why the film had me engaged till the lights went off."
Taran Adarsh of Bollywood Hungama writes: "First, the plot! HASEE TOH PHASEE is about the rebellious Meeta [Parineeti Chopra] and the mischievous Nikhil [Sidharth Malhotra], who are struggling to fit into their respective families. Nikhil bumps into Meeta on the occasion of her sister Diksha's wedding and falls in love with her other sister Karishma [Adah Sharma].
"HASEE TOH PHASEE is gorgeously filmed and has the required finesse. Vishal-Shekhar's musical score only enhances the mood and setting. The duo packs in soothing-and-soulful ['Zehnaseeb' and 'Manchala'] and entertaining ['Shake It Like Shammi' and 'Drama Queen'] tracks, making it an infectious album.
"On the whole, HASEE TOH PHASEE is a bright-and-breezy, charming and refreshing rom-com that makes you smile, laugh and gets you moist-eyed at regular intervals. A qualitative film that warms the cockles of your heart. Go for it!"
Sweta Kaushal of Hindustan Times writes: "The movie traverses the journey of Meeta finally gaining her sanity (the 'mental' that she is) and Nikhil losing his!Parineeti wonderfully essays the role of an addict who is also a brilliant scientist. She balances between the emotional and innocent shades of her character very well. Siddharth Malhotra, Sharat Saxena (Nikhil's dad), Neena Kulkarni (his mom) and Manoj Joshi (Parineeti's dad), too play their parts with precision.
"Hasee Toh Phasee gets better in the second half where you are treated with well-balanced melodrama and humour. Especially, the sequence where Sharat Saxena interrogates Parineeti has the elements in the perfect mix. While there is a clear indication of the beginning of romance between Siddharth and Parineeti, ACP Pradyuman and Daya-gyan from CID keeps the audience smiling.
"There is no extra-melodrama, yet the movie is emotional. There are no crass jokes, yet it is humourous and to top it all, there are no love making scenes, yet the movie defines romance it its own style!"
Bindu Suresh Rai of Emirates 24/7 writes: "There is a moment in 'Hasee Toh Phasee' when Sidharth Malhotra's character realises he's forgotten that he's locked Parineeti Chopra in a room for reasons one may probably fail to even recall later.
What remains in the audience's mind is his lacklustre expression of remorse, which, unfortunately, is the underlying thread that binds this romantic comedy that lacks heart and humour at intervals.
"This is only Sidharth's second film and the young actor comes across as confident and possibly endearing at times; what he lacks is intensity in those emotionally charged moments, which will probably be honed as his Bollywood career shapes up. Parineeti is a step ahead of her co-star, proving once again her deadpan comic timing and an innocence that is imperative for the audience to find some connection with a character that is complex and strange at best.
"And in case you were wondering, the film's title has simply no connection with the story, just emerging as another one of those Johar gems that defy logic."