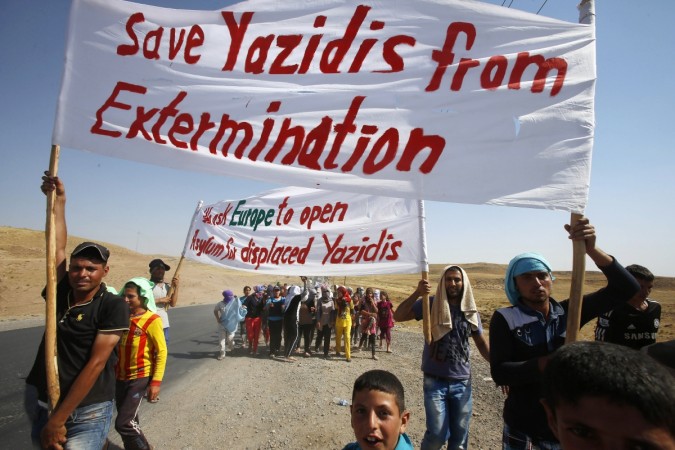 Tens of thousands of Yazidis who were trapped on Mount Sinjar without food and water for days have escaped, and the Islamic State militants' siege has been broken, according to the United States Defence officials.
Defence Secretary Chuck Hagel said on Wednesday that the US is unlikely to conduct a rescue mission on Mount Sinjar, with an official statement from the Pentagon stating that there were "far fewer Yazidis on Mount Sinjar than previously feared", and that "the Yazidis who remain are in better condition than previously believed".
The US Defence Department officials said that US airstrikes and the efforts of the Kurdish fighters had broken the Islamic militants' siege of the mountain, where thousands of Yazidis had fled fearing persecution by the Islamic State militants, The New York Times reported.
"Thousands of Yazidis were evacuated from the mountain each night over the last several days," the Pentagon press secretary, Rear Admiral John Kirby, was quoted as saying. "The team has assessed that there are far fewer Yazidis on Mount Sinjar than previously feared, in part because of the success of the humanitarian airdrops."
The statement came hours after a team of US marines had landed on Mount Sinjar to asses if a rescue operation was necessary to evacuate the Yazidis. The US had announced on Tuesday that it was deploying additional 129 forces in Iraq to assess the humanitarian situation.
The militants of the Islamic State, formerly known as the Islamic State of Iraq and Syria (ISIS), have run over several towns in Iraq over the last few months and have been persecuting minorities in the country, especially the Christians and the Yazidis, with the latter being termed as 'apostates' by the militants.
As the threat against the Yazidis mounted and tens of thousands of them were stranded on the mountain, the United States began conducting airstrikes last week against the militants, who had also come closer to the city of Irbil where American personnel are located.
Some European nations have also decided to join the US in rescuing trapped civilians and furthering humanitarian aid. The British government decided on Tuesday to send in troops to Iraq if necessary and also decided to transport military supplies to arm the Kurdish fighters.
France announced on Wednesday that it would send in arms to Iraq to boost the efforts of the Kurds, while Germany has decided to send in aid in the form of beddings and tents and bulletproof vests, according to NYT.