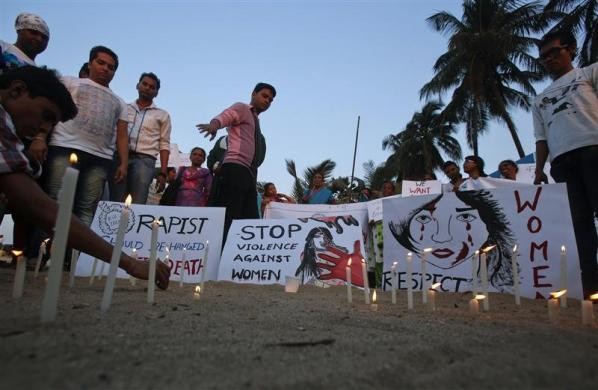 The three Rohtak youths, who were beaten up by two sisters aboard a Haryana government bus, were on Sunday arrested for harassing and eve-teasing the girls.
The accused – Kuldeep, Mohit and Deepak – were taken into custody late on Sunday night and a case under Section 354 (assault or criminal force with intent to outrage woman's modesty) and Section 323 (voluntarily causing hurt) of the Indian Penal Code has been registered against the trio.
"We have arrested the three accused and they will be produced before court tomorrow," NDTV quoted Rohtak SP Shanshank Anand as saying.
The incident took place on Friday, when the two college students – Aarti and Pooja – were heading back to their village from Rohtak on board a government bus. The harassing and eve-teasing started at the bus stop, while they were waiting for the bus to arrive.
"When we were at the bus station, the men started throwing chits at us with numbers written on them. When my sister objected to this, they started abusing us," one of the girls said.
However, after boarding the bus, the men started blowing kisses at the girls. They even started harassing a fellow passenger, but when Aarti and Pooja tried to object to the behaviour, they started abusing them instead. In retaliation, the girls thrashed the men and hit them with their belts.
"Inside the bus, they made some obscene gestures after which we lost our patience and started beating them. One of the men grabbed my sister's hand and the other held me by the neck. That's when my sister took out her belt and started hitting the men," the girl said.
While the sisters fought the molesters, none of the passengers came forward to help them. Even the conductor and bus driver chose to ignore them.
"We fought the assaulters all alone. No one came forward to help us as the youth hit us and even pushed us out of the moving bus," The Times of India quoted the girls as saying.
The girls also did not receive help from either women's helpline number or police. After they called the helpline number seeking help, they were told they will receive a call within a couple of minutes.
"The helpline attendant told us that they will call up in two minutes. But we got no call and no help," Aarti said.
After the tussle between the girls and the men, the trio threw Aarti and Pooja out of the bus as passengers watched silently. After getting back home, the girls narrated the whole incident to their parents and later registered a complaint with the Sonepat police and filed an FIR against the three.
The police took the three youths into custody on Sunday after the video of the incident, taken by a fellow passenger, went viral on social media. The girls' father Rajesh Kumar also alleged that police had tried to put pressure on them for taking back the complaint.