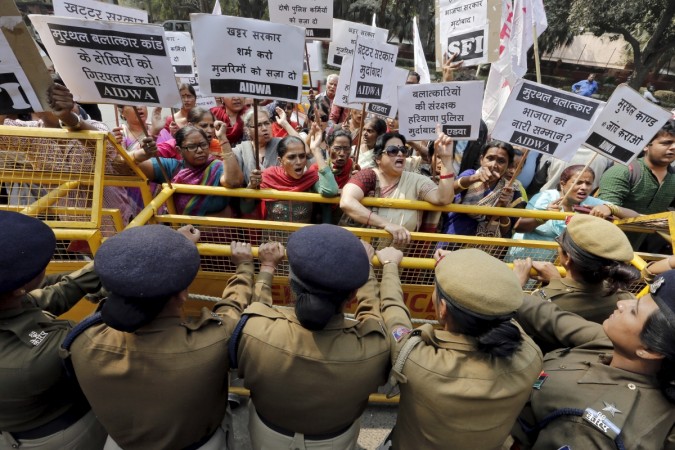 More than a month after eyewitnesses said at least 10 women were gang-raped in Haryana's Murthal area during the Jat quota protests, the Haryana Police added the charge in its FIR. Three women have complained of being gang-raped between Feb. 21 and 22, reports said.
Two of the women sent anonymous letters with details about the crime that allegedly took place between Feb. 21 and 22. Lawyer Anupam Gupta, amicus curae to the Punjab and Haryana High Court in the case, has said he has audio recordings of another complainant, a girl from East Delhi.
"Their (police's) move is from complete denial to acknowledgement. I don't have much faith in Haryana police and there is danger of subversion of justice," Gupta was quoted as saying by the Times of India, about his refusal to share the recording with the Special Investigation Team (SIT) formed to probe the case.
The Tribune newspaper had first reported the alleged gang rapes Feb. 23. They quoted eyewitnesses as saying that women were dragged in the fields near Murthal, a popular area with several eateries, by men and were gang-raped. The Haryana Police, the report said, had told the women to not file an FIR regarding the crime.
An SIT was later formed as the high court took suo motu cognizance of the case. However, they were unable to find leads. The Haryana government, though, accepted that gang rapes were a possibility Monday after the three complaints came forth.
One of the complainants is a final year student from Delhi who said in her letter that she was crossing NH-1 when she was attacked. Another lady, an NRI from Australia, also alleged that she was raped in Murthal, the TOI reported.
Protests took place in February in Haryana as the Jat community demanded reservation in government jobs and educational institutions. After more than a week-long disturbance in the state, the government ceded to the demands and the Assembly legislated to provide quota to the Jat community in March.