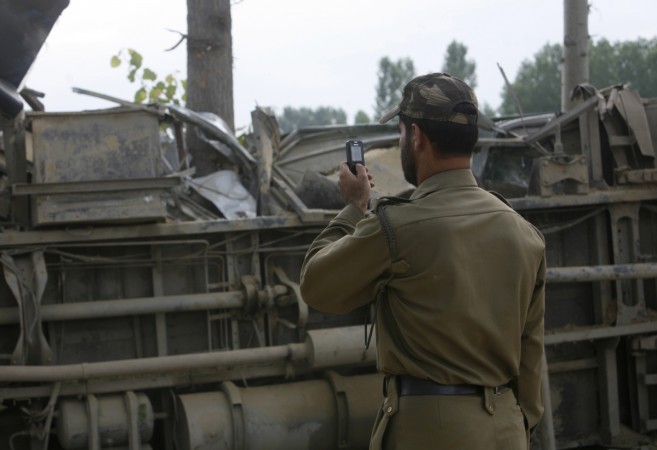 Intelligence agencies fear the bomb blast on a bus in Haryana's Kurukshetra district on Thursday may be a trial run for a bigger terror attack out of the state, possibly in New Delhi, the Indian Express reported on Sunday.
An improvised explosive device (IED) blasted on a Haryana Roadways bus near Pipli in the district, injuring eight people. The investigation revealed that the bomb used in this explosion was similar to the ones used in the two blasts that took place in empty trains in Panipat earlier this year.
All the three blasts are believed to be the handiwork of one group, which may be plotting a bigger terror attack in future, intelligence agencies believe. All the three attacks are suspected to be trial runs for a possible major one. Also, the people behind the attacks may be hiding in area near Haryana-Delhi border.
"Not packing bombs with shrapnel means that the bomb-maker did not want to cause fatalities. If he could get explosives, circuit, timers and assemble them, there is no reason why he would not pack them with shrapnel. Either the bomb-maker just wants to send a message or these are trial runs for a bigger attack in the near future," the IE quoted a central security establishment officer as saying.
After the explosion in the bus, the police recovered a polybag with a message written in Thai on it.
"These are crucial leads. The 12 Volt battery, which is similar in the three blasts, is also being examined for its lot number. The explosives seem to have been obtained from firecrackers. Hopefully these will lead the probe team to the people behind the blasts," the officer said.
Intelligence agencies are suspecting a larger conspiracy behind all the three blasts as the bombs were manufactured by trained bomb-makers. Of the two other blasts, one occurred on May 13 in an EMU train that had arrived in Panipat, while another on Jan. 15 in a passenger train before its departure from Panipat.