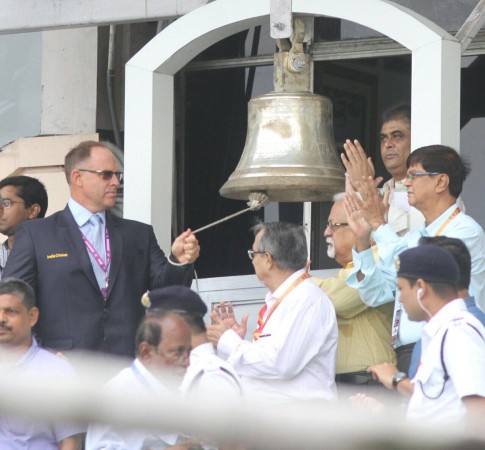 Former Australian opener Matthew Hayden 'yanked' the bell at Eden Gardens out of its place when he was invited to do the honour ahead of the start of second day's play of the first Test between India and Sri Lanka on Friday, November 17.
The strong-built left-hander thereby left co-commentators Harsha Bhogle and Murali Karthik bursting into laughter when the episode was played on television later during the game.
The bell, resembling the one at Lord's cricket ground in London, was installed at the Eden Gardens by the Cricket Association of Bengal during the Test match between India and New Zealand last year. World Cup-winning captain Kapil Dev was the first cricketer to ring the bell before the start of the Test.
Notably, VVS Laxman, the man who scored the famous 281 against Australia in 2001, kicked off proceedings on Day 1 (Thursday) by ringing the bell.
Hayden though went hard at the bell and kept yanking it only to stop with a satisfied look on his face, which was later pointed out by Bhogle on-air.
WATCH THE FULL VIDEO HERE
Bhogle quipped that Hayden had tried to "yank the bell out of its location at the Eden Gardens". The Australian great defended his actions, saying he was little nervous while ringing the bell at the iconic cricketing venue.
"The last thing you want is a bell ring that just gives you a chime. It's a massive bell and surely you can give it a good nudge," Hayden said even as Bhogle and Karthik were trying hard to control their laughter.
He added: "It was not actually me that. I think there was a puppeteer on top of me."
Note: We had erroneously used the word "mocks" instead of "teases" in the headline. We apologise for the goof-up. We changed the headline after Harsha Bhogle himself pointed it out on Twitter.
Here's what the commentator told IBTimes India about the incident on-air: "It was in jest. Hearty laughs all around. The reporting was either mischievous or from someone who doesn't understand what 'mocks' means".