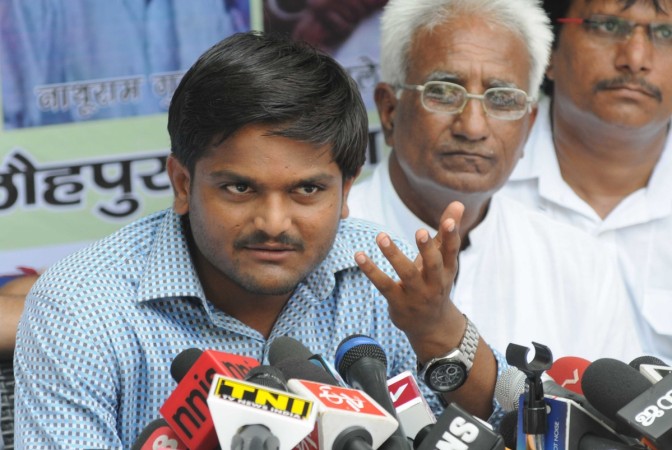 Hardik Patels family was put under house arrested as Gujarat Chief Minister Anandiben Patel was addressing a gathering in Patels hometown Viramgam.
It is believed the police action was taken as a precaution ahead of the chief minister's visit. Hardik's family was released after the programme ended on Thursday afternoon, according to a Press Trust of India (PTI) report.
"To stop Hardik's family from creating any trouble during CMs visit, we kept his father (Bharatbhai), mother (Ushaben) and sister (Monika) under house arrest. The house arrest was later lifted after the function ended," said Viramgam town Inspector Vishwarajsinh Jadeja.
Seven women who were sloganeering and demanding his immediate release were also detained.
"We detained seven women as they started shouting slogans when the chief minister was delivering her speech at Shala Praveshotsav (school enrolment) programme. We released them after the programme ended in the afternoon," he said.
Reacting to the sloganeering women, Anandiben said reservation would not solve problems as there was no substitute to hard work.
"Reservation alone is not the solution. People want to bypass hard work and wish to get a high ranking job, such as Superintendent of Police. They must first apply for a post of lower ranking job, such as a constable, and then climb to higher position with hard work," Patel reportedly told the gathering.
The police action and detention drew flak from members of the Patidar Anamat Andolan Samiti (PAAS), the group that is seeking reservation through the inclusion of Patels in the OBC quota.
According Hardik's close aide Dinesh Bambhaniya, who is also a PAAS member, the government was suppressing the voice of the Patel community.
"This is clear violation of our rights, as our women are not allowed to speak. We also condemn the unlawful detention of Hardiks family, who were under house arrest since late yesterday night," Bambhaniya said.