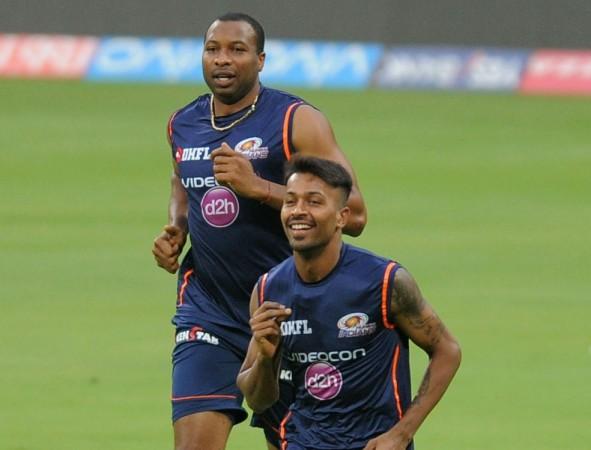 Hardik Pandya revealed how his "brother from another mother" Kieron Pollard pulled a prank on him during India's tour to the West Indies earlier this year. The Indian all-rounder talked about how his Mumbai Indians teammate joined hands with a local police officer to "scare" him.
Pandya added that he shares a wonderful rapport with the big West Indies all-rounder and had spent a lot of time with him during the 17-day-long tour, in which the visitors won a five-match ODI series 3-1, but lost the one-off T20I.
Ever since making his Indian Premier League (IPL) debut in 2010, Pollard has been an integral member of the Mumbai Indians squad. The 30-year-old joined Pandya when the latter joined the three-time champions' squad in 2015. The two big-hitting all-rounders made key contributions to MI's title-winning campaigns in 2015 and 2017.
'I knew it was a prank but...'
"When we went to West Indies, I was with him the whole time. I was roaming about as if I was in India. I told him 'you are there... you won't let anything happen to me'," Pandya told television presenter Gaurav Kapur during an episode of YouTube show Breakfast with Champions.
He added: "So he actually pulled my leg. he called a policeman, who was trying to arrest me. The policeman was his friend. They decided to scare me. I knew it was a prank but at one point, things got a little serious. I stayed calm and I thought I would call the Indian team and sort it all out because I haven't done anything wrong.
"I figured out it was a prank when I saw the police officer try to call someone while holding the phone upside down with the speaker at the wrong end.
"Pollard asked me why I was calm. I said 'See Polly, nothing will happen to me if you are around. I am in your city.'
"I met everyone at his place. He keeps on going to people' s places, I went everywhere with him. That's why I call him 'a brother from another mother'."
Meanwhile, Pandya is gearing up of the upcoming limited-over series (three ODIs and three T20Is), starting December 10 in Dharamsala. The 24-year-old, who has become an integral member of the Indian limited-overs side, was rested for the ongoing three-Test series against the islanders.
Watch full video