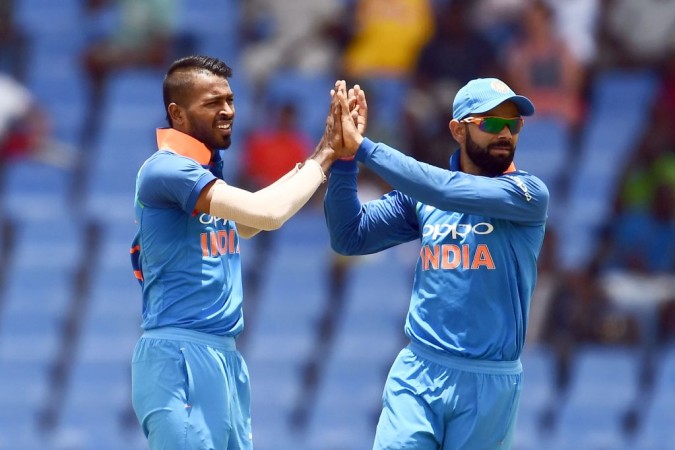 Skipper Virat Kohli's 29th birthday, which is being celebrated on Sunday (November 5), gave the Men in Blue a reason to party and forget the 40-run crushing defeat to New Zealand in the second of the ongoing three-match series in Rajkot on Saturday (November 4).
The celebrations in the Indian dressing room began as early as Saturday evening and the skipper was in the thick of the action, cutting a couple of cakes.
And that seems to be when Hardik Pandya exacted revenge on Kohli by getting his captain cake-smeared.
The Baroda all-rounder had been waiting for a long time to return the favour as he was on the receiving end of a similar action during his birthday celebrations on October 17.
Pandya had taken to Twitter to signal he would be eyeing revenge. The 24-year-old had written: "Everyone's birthday comes once a year... revenge will be 'sweet'. [sic]"
It seems no one in the dressing room spared Kohli. While wrist-spinners Kuldeep Yadav and Yuzvendra Chahal were seen smearing cake all over their captain's face, the Delhi dasher also got a quirky makeover.
Check out the photos here:
Kohli's superhuman consistency has made one one of the most celebrated cricketers in the modern-day game.
At 29, Kohli has already broken records, and also set quite a few of them.
During the recently-concluded ODI series against New Zealand, the right-hander went past Australian great Ricky Ponting's tally of 30 tons and now is second only to Sachin Tendulkar, who finished with 49 centuries in the 50-over format.
The Delhi batsman himself conceded he would continue playing cricket for another 8-10 years, which means he is in line to finish on top of the world, at least in limited-overs cricket.