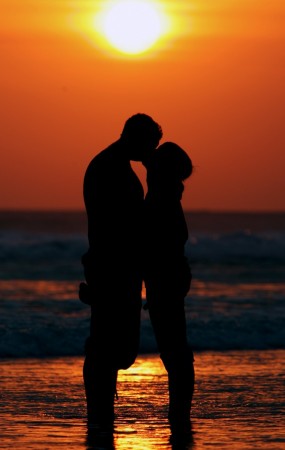 Happy Valentine's Day 2014! Yes it is a day for celebrating everything you have on earth that is worth possessing and cherishing - love. It's a day to treasure and replenish the memories of the moments that saw the flower of your love budding like a gentle touch of warmth. [Read Valentine's Day Gift Ideas]
A day to remember the first time you saw him or her and that one smile was enough for you to realize that the world meant nothing without the existence of this one person. A time to remember the first touch and the first kiss - the gentle, warm feeling that gripped you as your lips shuddered with the divine affection that saw no bounds.
A day to perhaps remember how time saw no limits when you suddenly realized it was from dusk till dawn you had engaged in ceaseless telephone conversations with that one special person - and that only left you wanting for more. A moment to cherish the fact it is indeed heaven on earth the moment - that indescribable instant - when you land up forgetting your own life when you are securely bound in that special person's warm embrace.
That is the moment you realise:
Only the sound of gushing winds goes by,
Only the thoughts of missing things here lie,
Only the feeling of painful shy,
Yet, the plentiful joy of life is never to die.
Here are top ten love quotes that will make your day extra special:
1. Doubt thou the stars are fire;
Doubt that the sun doth move;
Doubt truth to be a liar;
But never doubt I love. - Hamlet , 2.2 William Shakespeare
2. "Love seeketh not itself to please, nor for itself hath any care, but for another gives its ease, and builds a Heaven in Hell's despair."- William Blake, Songs of Innocence and Songs of Experience
3. The greatest possession we have costs nothing, it's known as love - Brian Jett
4. Gravitation is not responsible for people falling in love - Albert Einstein.
5. Immature love says: 'I love you because I need you.' Mature love says 'I need you because I love you.' - Erich Fromm
6. Love is composed of a single soul inhabiting two bodies - Aristotle
7. Where there is love there is life - Mahatma Gandhi
8. Being deeply loved by someone gives you strength, while loving someone deeply gives you courage - Lao Tzu
9. You know you're in love when you can't fall asleep because reality is finally better than your dreams. - Dr. Seuss
10. If I had a flower for every time I thought of you...I could walk through my garden forever. - Alfred Tennyson
And lastly:
11. We're all a little weird. And life is a little weird. And when we find someone whose weirdness is compatible with ours, we join up with them and fall into mutually satisfying weirdness - and call it love -true love. - Robert Fulgham, True Love
Also Read: 10 Romantic Gifts You Can Think of on Valentine's Day