Happy Thanksgiving 2017!
People all over the United States are all set to celebrate one of the most important national holidays — Thanksgiving. It is celebrated on the fourth Thursday of November annually and this year it is observed on November 23.
Check: What to watch on television on Thanksgiving 2017?
The occasion is to thank God for all the blessings and a good harvest. However, it is celebrated on the second Monday of October in Canada.
Thanksgiving is also known as Turkey Day as family members gather together for a delicious feast on the special day. Large roasted Turkey is one of the important dishes served along with a variety of side dishes, including potatoes, cranberry sauce, pumpkin pie and vegetables, among others.
Thanksgiving Day parades will also be held in some cities to mark the opening of the Christmas shopping season. Meanwhile, a four-day weekend is also a time for family trips.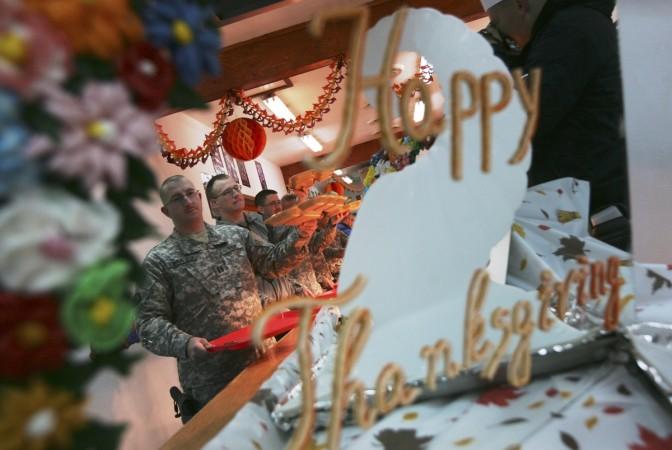 Check out these interesting quotes by famous personalities on Thanksgiving 2017:
The thankful receiver bears a plentiful harvest. — William Blake, English poet.
Thanksgiving is a time of togetherness and gratitude. — Nigel Hamilton, British-born biographer.
I give thanks to my Creator for this wonderful life where each of us has the opportunity to learn lessons we could not fully comprehend by any other means. — Joseph B. Wirthlin, American businessman.
Be thankful for what you have; you'll end up having more. If you concentrate on what you don't have, you will never, ever have enough. — Oprah Winfrey, American talk show host

Thanksgiving Day is a good day to recommit our energies to giving thanks and just giving. — Amy Grant, American singer
There is one day that is ours. Thanksgiving Day is the one day that is purely American. — O Henry, American writer
Thanksgiving is a season that is very much in accord with the themes and teachings of Jesus Christ. — John Clayton, US clergyman
I am grateful for what I am and have. My thanksgiving is perpetual. — Henry David Thoreau, American writer.
Here are some unique wishes, messages and greetings to share with friends and family:
May you be blessed abundantly. May God hear all your prayers and bless you with lots of happiness and memorable moments in life. Happy Thanksgiving 2017.
The much awaited time of the year is here. It's Thanksgiving - the most auspicious day to thanks everyone for making us smile with their kind gestures. I thank you so much dear friend. Happy Thanksgiving 2017.
I have been telling you this same thing every year. But I am helpless. It's thanksgiving and I have to thank you again and again for making me a better person with all your necessary feedback and support. You are the best thing that happened in my life. Happy Thanksgiving 2017.
Buddy, I really miss our childhood days when we used to wait to eat the yummy turkey prepared by our moms. Now, we are miles away and I am so sorry for not coming home this year. I promise I will be there the next day. Happy Thanksgiving.
Finally, the day is here. I am so grateful for all your support and love that are of course the reason why I am happy now. You have been a great inspiration for me. You helped me whenever I was in need. Thank you a lot dear.
Apart from yummy turkey, you are that one person I am waiting to spend the day with. Come over and let's have dinner together. Happy Thanksgiving.
May this Thanksgiving day be filled with peace, love and happiness. May this day give your memorable moments that you cherish throughout your life. Happy Thanksgiving 2017.
It's thanksgiving today.
Time to give thanks for everything we've got.
Friends, family, laughter and togetherness.
For all the wonderful things happening around us.
Each new moment is a treasure found.
So let's always thank God for all the blessings.
And make everyday a Thanksgiving day.
-