Raksha Bandhan, the festival that celebrates the relationship between brothers and sisters, is celebrated on Saturday, 29 August. The festival is mainly observed in India, Mauritius and some parts of Nepal by Hindus, Jains, and Sikhs.
On the special day, sisters tie a rakhi (sacred thread) on the wrist of their brothers and the custom shows the love between siblings. Once a girl ties the rakhi on her brother's wrist, he has to take a lifelong vow to protect her. Special gifts will also be exchanged between brothers and sisters.
Raksha Bandhan 2015: Hansika Motwani, Charmme Kaur, Suresh Gopi, Others Celebrate Festival [PHOTOS]
Check out some messages, greetings to share with brothers and sisters below:
Your are someone who is caring and sharing and you can understand the pain, which is not visible to anyone else. I love you dear sister/brother. Happy Rakhi.
You are my best friend. You stand by me when I am alone, you make feel happy when I am low. Thanks for being with me always. Thanks dear. Happy Raksha Bandhan.
Raksha Bandhan 2015: Oliver-Thea, Haley-Alex-Luke and Other Popular On-Screen Siblings
We have fought a million times, but I want to tell you this. During the times when we fought, my love was in a different mood. Happy Raksha Bandhan sweety!
Holi is colourful,

Diwali is lightful and brightful,

Rakhi has made our relationship powerful
As we grow up, we act like we don't care,

But it is just an act,

For I know you will always be there,

Love you, brother/sister dear
Today is Raksha Bandhan and you are not here by my side..

But we are close in each others thought

And my love will always be with you0

Happy Raksha Bandhan
Rakhi is just an excuse for me to express myself

You mean the world to me

Happy Raksha Bandhan to my sweet sister/brother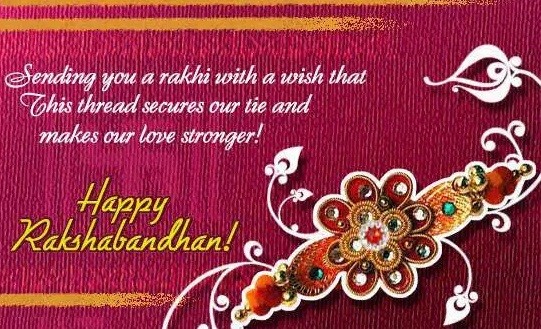 If one day you feel like crying

Call me!

I promise that I will make you laugh.
Your love makes me feel proud

And on this day I want to shout it out loud

Happy Raksha Bandhan my sister/brother
We gain and lose things every day.

But trust me on one thing.

You'll never lose me.

I will always be here.

Happy Raksha Bandhan 2015
No matter the distances between us, my Rakhi will always reach on time, to be tied on the wrist of my loving brother with the heart-warming wishes of joy and happiness to illuminate your life.