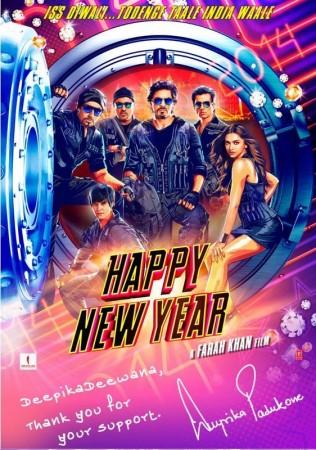 Shah Rukh Khan's "Happy New Year" was said to be the longest film of 2014, but the actor clarified on Thursday that it's not as long as it's been reported.
Trade experts had previously reported that the upcoming grand Diwali release is 184 minutes (3 hours, 4 minutes) long.
However, dismissing the reports, Shah Rukh said that the run time of the film is less than three hours. In fact, the end credit clocks in more than six minutes.
"It's a longish film, probably longer than maybe a 'Chennai Express', but not as long as one trade analyst (Komal Nahta) has mentioned. He has not seen the film so he does not know about it. It is not that long. 'HNY's runtime is less than three hours," SRK told DNA.
The actor also explained why the end credit runs in six minutes. The film has several guest appearances and hence it has to be long enough to feature their names.
"It's a very big film, hence it has many technicians, dancers and other crew members. At times, we see films with huge VFX and the credits go on and on in the end. Happy New Year has that many people who have participated in the film," Shah Rukh told the leading daily.
"When the VFX credits roll, we have almost 70-80 people and we put all of them in because Farah wants that. Actually, I might be wrong because the rolling credits might even be a little longer than six minutes. HNY is not a lengthy film like that and after all, it is entertaining the audience that matters," he added.
"Happy New Year" directed by Farah Khan is one of the most awaited films of the year. The heist drama features Shah Rukh, Deepika Padukone, Abhishek Bachchan, Sonu Sood, Boman Irani and Vivaan Shah in the lead roles.