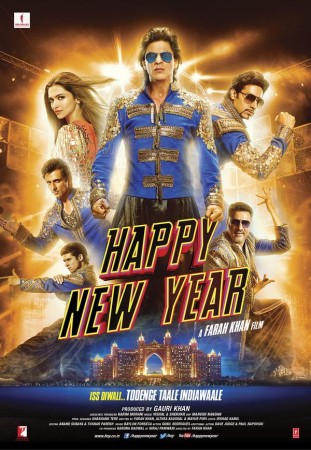 "Happy New Year" starring Shah Rukh Khan and Deepika Padukone is set for the biggest release worldwide on 24 October.
The musical heist drama, which is said to be the longest film of 2014, has created one more record by taking its screen count total to 6,000 screens worldwide.
The makers of "Happy New Year" will release the film in 5,000 screens in India and 1,000 screens abroad, according to Business Standard. This is the highest screen count ever recorded for any Bollywood film.
The highest India screen count recorded for Bollywood film is 4,500 screens. Be it the recent film "Bang Bang" or last year's "Dhoom 3" the big-budget films were released in less than 5,000 screens in India.
But "Happy New Year" has shattered that record with big margin.
"You cannot get a better combination in Bollywood. Happy New Year marks the return of SRK and Deepika after Chennai Express and SRK and Farah (Khan) after hits such as Main Hoon Na and Om Shanti Om; and, it's the occasion of Diwali. The film is set for a wide release and, at least at PVR, 80 per cent of our screens will be running the movie," Kamal Gianchandani, chief operating officer, PVR Ltd told Business Standard.
Not only Hindi, but the film will also release in Tamil and Telugu versions for south audience, which why it has one of the widest releases. The huge release will also reflect at the box office collection of the film worldwide.
"Wide release strategies are typical for major films with blockbuster potential. Distributors book a film in a huge number of screens to record maximum results due to the festive occasion of Diwali," distributor Suniel Wadhwa told the daily.