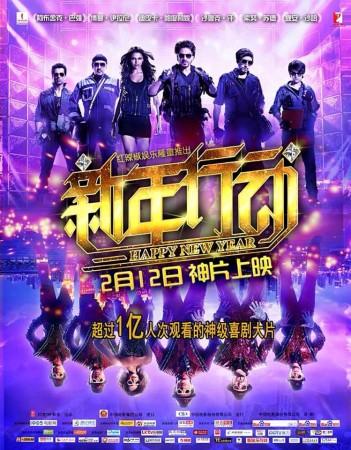 Shah Rukh Khan's "Happy New Year" movie failed to beat Aamir Khan's "Dhoom 3" box office record in India, but in China the film has created record even before the release.
"Happy New Year", directed by Farah Khan, will release at the Chinese box office on 12 February and apparently in the maximum screens.
"Dhoom 3" was released in 2000 screens last year at the Chinese box office, which was the highest screen count. However, "Happy New Year" has now taken the top spot with 5000 screen count.
The screen count of "Happy New Year" is the highest ever for any Bollywood movie that has been released in China. Even the highest Bollywood grosser "PK", which will hit screens in China this year, will release in 3500 screens only.
"Breaking News: #HappyNewYear will release on 12 Feb in 5,000 screens across China," trade analysts Taran Adarsh tweeted.
Meanwhile, it remains to be seen whether "Happy New Year" will break the box office record of "Dhoom 3" in the country. "Dhoom 3" debuted at ninth position at Chinese box office and collected Rs 8.14 crore in its opening weekend.
"#Dhoom3 debuts at No 9 at Chinese Boxoffice. Collects an impressive $ 1.35 million [₹ 8.14 cr] in opng wknd," Adarsh tweeted last year in July.
"Dhoom 3" broke the record of Chinese romantic film "No Zuo No Die" with its opening weekend figure, a statement from Yash Raj Films noted.
Apart from "Happy New Year", this year Aamir's "PK" will also release in China. Top officials from China Film Group Corporation (CFGC) recently signed a deal with the makers of "PK".
"PK was still on the editing table. But they were very keen. They found the story unusual. Subsequently, the CFGC invited us," director Rajkumar Hirani told Hindustan Times.
"Happy New Year" is releasing during the Chinese New Year weekend and will also be screened at the Beijing Film Festival.
"This is the first Indian movie to come to China this year and in our meeting with Mr. Shah Rukh Khan and YRF chairman Mr. Aditya Chopra we discussed about many more collaborations in future. Hope this is just the start of a long journey," Ms. Xiao Ping, president of China Film Group (Import Export Division), said in a statement.
"We at YRF pride ourselves on taking the best of Indian cinema to new shores," said Avtar Panesar, vice president (International Operations) YRF.
The action-packed musical heist drama, which grossed Rs 202 crore in India, also features Deepika Padukone, Abhishek Bachchan, Boman Irani, Sonu Sood and Vivaan Shah.