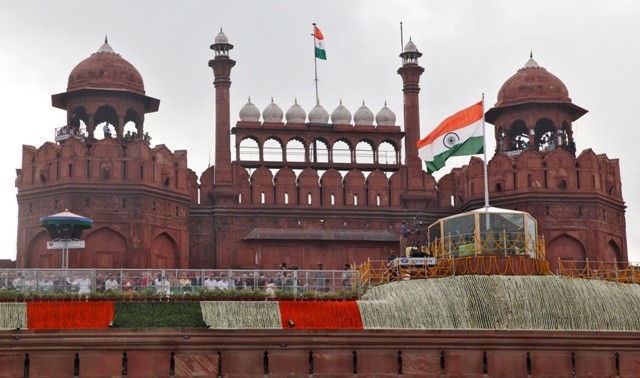 Happy Independence Day!
The 70th Independence Day is celebrated throughout India on Friday, Aug. 15, in order to commemorate the day the country attained freedom from the British rule in 1947.
Indian Prime Minister Narendra Modi will hoist the national flag and deliver Independence Day special speech during a grand event that will also have parades and cultural events at Red Fort in New Delhi. The national holiday is observed to pay tribute to the bravehearts who sacrificed their for the country. As part of the celebrations, schools and colleges will organise flag hoisting as well as cultural events to pay homage to the freedom fighters and legends of the country.
Independence Day 2016 special quotes by freedom fighters
Check out few SMS, messages, wishes and greetings to be shared on the Independence Day 2016 on Whatsapp and Facebook here:
Be a patriotic everyday, not just on Independence Day and Republic Day. Wishing you the greetings of 70th Independence Day!
Its been 70 years since our country attained freedom from British.
Remember all the brave hearts who helped us to enjoy this freedom,
Who sacrificed their own life for the well being of mother India.
Happy Independence Day 2016!
As India celebrates her 70th year of freedom, I wish you all the greetings of the day and be proud to be Indian. Happy Independence Day!
Be Proud to be an Indian
Salute the martyrs for their sacrifices
Thank them for giving us a good future.
Independence Day greetings!
India is a country that is rich in cultures, tradition and religion. You might be a Hindu, Christian or a Muslim, but be proud to call you an Indian. Happy India Independence Day 2016!
Thousands laid down their lives for us to celebrate this day
On this 70th year of independence, lets take a pledge that we will never forget their sacrifices. Happy Independence Day 2016!
Let every patriot be honoured without politics getting in the way.
May the glory of Independence Day be with your forever!
Sare jahan se accha hindostan hamara Hum bulbulain hai iss ki yeh gulsitan hamara Sare jahan se accha. The joy and happiness of living in free India is immense. Proud to be an Indian now and always. Happy Independence Day 2016!
Be proud to hold the tricolour flag, which is a symbol of peace and harmony our Mother India attained in 1947. Wishing you the greetings of the 70th Independence Day!
Remember the sacrifice our Indian freedom fighters who shaped this country. Rejoice and celebrate the day with pride. Independence Day greetings to you and your family!
With great respect, let us thank all the great brothers and sisters for sacrificing their life to make us free. Happy Independence Day wishes!
Freedom is something that money can't buy, it's the result of the struggles of many brave hearts. Let us honour them today and always. Happy Indian Independence Day 2016!
-