Happy Halloween 2017
The spooky festival of the year is around the corner with people all over the globe set to celebrate Halloween on October 31 just before the All Saint's Day.
The special day is dedicated to remembering the dead and people celebrate it with great joy by dressing up in special costumes and attending Halloween parties.
Here's a spooky sound compilation by NASA for Halloween 2017
What else can be done on Halloween? People carve and decorate pumpkins into jack-o'-lanterns, light bonfires, play pranks, visit haunted places and also watch horror movies as part of the festival. Trick-or-treat is also a customary celebration for children on Halloween with them visiting every house in their neighbourhood asking for candies.
Check: Cult Bollywood horror movies that no Hollywood scary films could match up to!
Of late, Indians have also started celebrating Halloween with restaurants and pubs arranging special spooky parties for their customers.
Check out interesting quotes, funny messages, wishes and greetings to share on Halloween 2017:
Halloween is an opportunity to be really creative. — Judy Gold, American comedian
I love the spirit of Halloween and the energy that comes with it. — Katharine McPhee, American actress
Halloween isn't the only time for ghosts and ghost stories. In Victorian Britain, spooky winter's tales were part of the Christmas season, often told after dinner, over port or coffee. — Michael Dirda, American critic
But I love Halloween, and I love that feeling: the cold air, the spooky dangers lurking around the corner. — Evan Peters, American actor
All my life, I have been a celebrant of Halloween. For me, it is the most important day of the year, the turning point in the old pagan calendar. — John Burnside, Scottish writer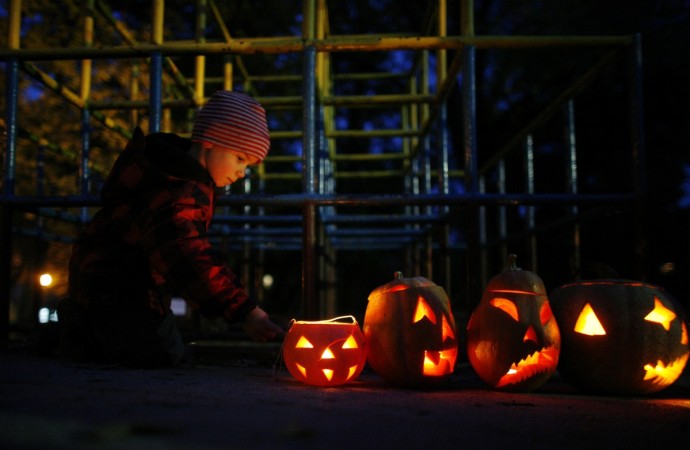 The idea of dying and coming back is what makes the Halloween films work. — Donald Pleasence, English actor
Halloween is my favorite holiday, and I always go all-out with my costumes. — Ginnifer Goodwin, American actress
Proof of our society's decline is that Halloween has become a broad daylight event for many. — Robert Kirby, American writer
When black cats prowl and pumpkins gleam, may luck be yours on Halloween. — Irish Proverb
Nothing on Earth is so beautiful as the final haul on Halloween night. — Steve Almond, American essayist
May you get a lot of candies this year and let this be the spookiest Halloween so far. Happy Hallooween 2017.
Finally, the much awaited Halloween is here. I am sad for not being with you this time for the festival. I will miss all the fun moments. Wish you all the greeting of Halloween.
On this Halloween, may you laugh a lot and enjoy the day with pranks and tricks. Enjoy Halloween to the fullest.
I hope many will prank you this time on Halloween. I hope you will have a lot of memorable moments. Happy Halloween 2017.
Beware of all the demons, witches and goblins, who are gonna trouble you this Halloween. Have a super fun Halloween this year.
I miss our childhood days when we used to go to every house in our neighbourhood to get different types of candies. I really wish to go back to those memorable days. Happy Halloween my dear friend.
May you have fun dressing up in the most scariest costume. I wish you get different types of candies and experience spooky moments. Happy Halloween 2016.