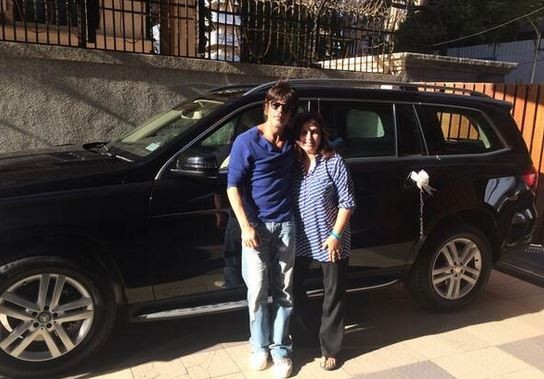 Bollywood celebrities often make it to the headlines for their rivalries, but there are a few who are known for their friendships and thus don't mind before spending crores on each other.
From Shah Rukh Khan to Salman Khan to John Abraham, Bollywood celebrities have often loosened their purse strings to gift expensive and stunning items to their loved ones. On the occasion of International Friendship Day 2016, we list out a few ridiculously expensive gifts given by celebrities to their celeb friends.
Shah Rukh Khan
The "Raees" actor gifted a BMW 7 series sedan to his close friend Arjun Rampal, director Anubhav Sinha and the south Indian superstar Rajinikanth after the release of "RA.One." He also gifted Farah Khan a Mercedes Benz E and a Hyundai SUV.
Shah Rukh once surprised his dear friend Abhishek Bachchan with a bike worth Rs. 12.5 lakh.
Salman Khan
Salman gifted a Rs. 2.5 crore painting to his "Kick" co-star Jacqueline Fernandez. Salman and Kareena Kapoor Khan share a good bond which is why she did not charge money for the special song "Fevicol Se" for "Dabangg 2," but Salman is known for his kind heart gifted the actress BMW.
Vidhu Vinod Chopra
Filmmaker Vidhu Vinod Chorpa made headlines when he gifted an expensive gift to Bollywood's megastar Amitabh Bachchan. The filmmaker wanted to work with Big B and the dream came true with "Eklavya" movie. Vidhu gifted a Rolls-Royce to Big B worth Rs. 3.5 crore.
Sidharth Malhotra
Sidharth Malhotra gifted Alia Bhatt an expensive camera on her 22nd birthday. The high-end camera, which was purchased from the U.S., has some unique selfie assisting features.
John Abraham
The actor shares a good bong with director Sanjay Gupta and knows the filmmaker's love for bikes. After the success of "Shootout At Wadala," John gifted Sanjay a fancy bike.