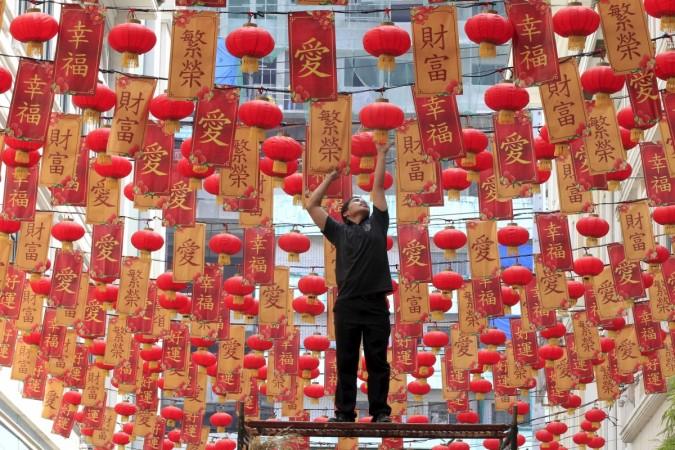 The Chinese New Year 2016 is fast approaching, and starting Monday, 8 February, 2016, everyone that follows the lunisolar Chinese calendar is going to celebrate the festival for seven days. Although the Spring Festival is mostly celebrated in Asian cities in Mainland China, Hong Kong, Macaau, Indonesia and a few other places, quite a few European cities celebrate it as well.
In fact, it is understood that London celebrates the Chinese New Year in a huge way, and that it is the biggest celebration outside Asia. The Year of the Monkey, 2016, will also be celebrated big in London and other European cities.
Here is how some of these cities will celebrate the Chinese New Year 2016. Wherever you are, do not forget to wish each other "Xin Nian Kuai Le" (Mandarin) or "San Nin Faai Lok" (Cantonese):
London: The Lunar New Year celebrations began in the Chinatown in London on Wednesday, 3 February. As always, there will be thousands of people parading the grounds of the Chinatown, dressed to the nines and looking for something red. Order a whole chicken dish, a fish dish and dumplings from one of the local Chinese restaurants like Min Jiang, Grand Imperial and Hutong. For vantage points, head to The London Eye, The Shard or Arcelor Mittal Orbit.
For more details on how London will celebrates Chiense New Year 2016, go to VisitLondon.
Paris: The Chinese New Year celebrations will take place at three major locations, and will go on for about three weeks, although the main festivities will take place on the actual New Year's Day, 8 February. From art exhibitions to dragon parade, Le Marais, Belleville, and the 13th arrondissement are all decked up to herald the Spring Festival.
For more details on the Chinese New year 2016 celebrations at Paris, visit Parisianist.
Also Read: When will Lunar Year of Monkey start? details and information
Brussels: Belgium has a huge Chinese Diaspora. However, 2016 will be the first year they hold a Chinese New Year Parade in Brussels. The parade, organised jointly by the Chinese Embassy in Belgium, Chinese Mission to the EU and Brussels Municipal Government, is set to start at 2 pm (CET) on Saturday, 6 February, at the Grand Place. The parade will feature Chinese art-forms like dragon dance, lion dance, folk dance, wushu, peking opera, cheongsam and fusion music.
For more details on the Chinese New year 2016 celebrations at Brussels, visit belchin.
Rotterdam: The Netherlands will welcome the Year of the Monkey with a vibrant parade at the Rotterdam Chinatown. Along with fireworks and parades featuring lions and dragons, the entire Chinatown is going to drown in festivities. The organisers are also planning on surprising the public by celebrating the New Year at "pop-up locations" like local bars and supermarkets. Those interested can also visit the het Oude Westen park to experience Chinese-style shopping and dining.
For more details on Chinese New Year 2016 celebrations at Rotterdam, visit rotterdamfestivals.