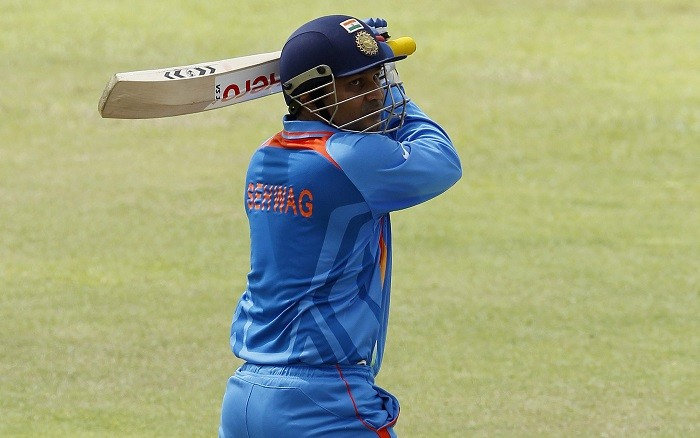 Virender Sehwag, who turns 38 today, was one of the most feared batsmen in world cricket in his playing days. He was never shy of taking the aerial route, taking the attack to the opposition irrespective of the surface, situation and the bowlers he was up against. Similarly, he does not mince words when it comes to posting tweets, which are often hilarious, helping him become one of the most followed cricketers on Twitter today.
At present, the former India opener has 7.22 million followed on Twitter. The numbers are only increasing with each passing days as people from all walks of life are following him for his famous tweets. He has bagged headlines for his hilarious and unique birthday messages to his friends, team mates, and other famous personalities around the world.
Besides being hilarious, he has also paid tribute to India cricket team when they perform well, and he also praised the Indian Army for the surgical strike last month.
The former batsman also does not mind taking a dig at well known people, as one witnessed when he took on British journalist Piers Morgan, who criticised India for celebrating after winning two medals in Rio Olympics. The former opener then replied, "We cherish every small happiness', But Eng who invented Cricket, &yet2win a WC, still continue to play WC. Embarrassing?"
Since then the two have been involved in taking digs at one another more than once.
Though it is his tweets, which has caught the attention of many around the world, one should not forget his major contribution to India cricket. He was a winning member of the ICC World Cup 2011 winning team, which will be one of his major landmarks.
On the personal front, he was a successful opener in both the Test and ODI arena, where he always adopted a fearless approach. He played 104 Test matches, scoring 8,586 runs, and 251 ODIs (8,273 runs). Sehwag did not play much T20 cricket for India, and scored 394 runs in just 19 matches.
Here is a look at some of his famous birthday tweets
Birthday messages
Tweet to Kevin Pitersen: "A very happy birthday @KP24. When we used to play for Delhi,I always thought, This KP will send the ball to CP,"
Dhoni: "Happy Birthday @msdhoni .May you keep doing Anhoni ko Honi.#NationalHelicopterDay"
Gary Sobers: "Happy Bday Sir Gary Sobers.The way u destroyed opposition with ur batting& bowling they wud hav never said u r Sober"
Jhonty Rhodes: "Hpy Bdy @JontyRhodes8 who while fielding gt confusd&literally playd'Chidiya Ud'(Bird Fly) #HumansCanFly#UdanKhatola"
Rohit Sharma: "When @ImRo45 Was Born, Doctor Said "Mubarak Ho Ji, Talent Hua Hai " #HappyBirthdayHitman#ClassPlayer"
Anil Kumble: In life don't be a Dumbo, Be like JUMBO. Kumble doesn't do any Jumle. K-U-M-B-L-E is very HUMBLE. Happy Birthday @anilkumble1074 ji