India captain Virat Kohli turned 29 on Sunday, November 5, and the Delhi man had a memorable time, celebrating the occasion with his teammates after the India vs New Zealand second T20I in Rajkot.
The run-machine was wished on the occasion in a number of tweets from all around the world, with a mix of celebrities, his close friends, team mates and others greeting him on his special day.
The Team India captain has had an amazing career so far, after making his international debut in 2008 against Sri Lanka in an ODI match.
Since then, Kohli has not looked back, scoring runs all around the globe, and is currently the captain in all formats of the game.
He is also currently the main batsman for the India team. Kohli has scored more than 15,000 runs across all formats, breaking all sorts of record.
Mixed feelings!
Kohli could have been a happier person on the eve of his birthday had India won the second T20I on Saturday.
Birthdays are once-a-year occasions, and with Kohli having done so much for Indian cricket in the last 12-18 months, he deserved all the celebrations of his 29th birthday.
As usual the ever-growing trend of cake-smearing took place, and Kohli seemed to have the time of his life, enjoying every moment of his special day. The Delhi man also posted a tweet.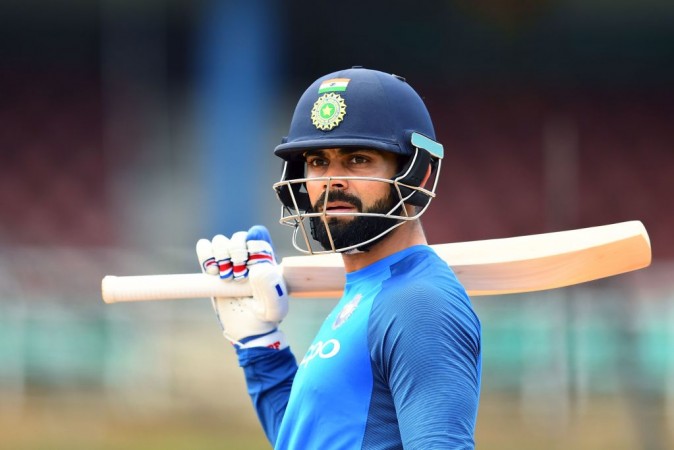 The Indian team can give him a perfect post-birthday gift on Tuesday.
The ongoing India-New Zealand T20 series is currently tied at 1-1, and it would be another reason for Kohli and his teammates to celebrate if they can win the series in Thiruvananthapuram.
Here are some tweets wishing the India captain on his special day:
Video of @imVkohli cutting his birthday cake! #HappyBirthdayVirat pic.twitter.com/c2jXWBZ7W1

— Saurabh Malhotra (@MalhotraSaurabh) November 4, 2017
Birthday greetings to a man with amazing consistency and hunger. A genius with the bat, a man destined for greatness #HappyBirthdayVirat pic.twitter.com/hycOJcxykl

— Mohammad Kaif (@MohammadKaif) November 4, 2017
Revenge no. 1️⃣ ?
Happy birthday, skipper- @imVkohli pic.twitter.com/mkv5KV08gH

— hardik pandya (@hardikpandya7) November 4, 2017
The meaning of Virat is Majestic! That's exactly what your performances on the field have been in the last few years @imVkohli
Happy b'day! pic.twitter.com/p57YYy94aG

— Suresh Raina (@ImRaina) November 5, 2017
There will never be enough words to describe how special Virat Kohli is but here are a chosen few! #HappyBirthdayVirat #KingKohli #VDay pic.twitter.com/4KoC9cEjBk

— Star Sports (@StarSportsIndia) November 4, 2017
Happy Birthday, @imVkohli. Have yet another fabulous year. God bless #HappyBirthdayVirat pic.twitter.com/33fCZye5cE

— Ravi Shastri (@RaviShastriOfc) November 5, 2017
To the most successful yet down to earth person I know! Happy B'day @imVkohli ? #HappyBirthdayVirat

— Danish Sait (@DanishSait) November 4, 2017
This is my fav pic from #HappyBirthdayVirat ? pic.twitter.com/P9mT31Xpmz

— Moulin (@Moulinparikh) November 4, 2017
#HappyBirthdayVirat pic.twitter.com/pLzP6Bknkd

— Vamsi Kaka (@vamsikaka) November 4, 2017
Happy birthday Master @imVkohli May we always be in awe watching you play. Keep on inspiring us the way you do?? #happybirthdayvirat pic.twitter.com/6cH5LkUDTk

— Mandeep Singh (@mandeeps12) November 4, 2017
15631 International Runs | 49 tons
Double Hundreds in 4 successive Test series
Fastest ODI ton by an Indian #HappyBirthdayVirat

— Sarang Bhalerao (@bhaleraosarang) November 5, 2017
15631 International Runs | 49 tons
Double Hundreds in 4 successive Test series
Fastest ODI ton by an Indian #HappyBirthdayVirat

— Sarang Bhalerao (@bhaleraosarang) November 5, 2017
#HappyBirthdayVirat :
Very warm birthday greetings to you @imVkohli; God bless you. One of my SandArts. pic.twitter.com/vb6yN27alN

— Sudarsan Pattnaik (@sudarsansand) November 5, 2017
15631 International Runs | 49 tons
Double Hundreds in 4 successive Test series
Fastest ODI ton by an Indian #HappyBirthdayVirat

— Sarang Bhalerao (@bhaleraosarang) November 5, 2017
15631 International Runs | 49 tons
Double Hundreds in 4 successive Test series
Fastest ODI ton by an Indian #HappyBirthdayVirat

— Sarang Bhalerao (@bhaleraosarang) November 5, 2017
I am privileged to be born in the era of little master #Gavaskar, master blaster @sachin_rt and legendary @imVkohli... #HappyBirthdayVirat pic.twitter.com/aq7yNx5wT9

— Kuldeep Bishnoi (@bishnoikuldeep) November 5, 2017
Birthday wishes to one of the greatest batsman India has ever produced. True legend both on & off the field. #HappyBirthdayVirat @imVkohli pic.twitter.com/bLIspFDqcd

— Manobala Vijayabalan (@ManobalaV) November 4, 2017