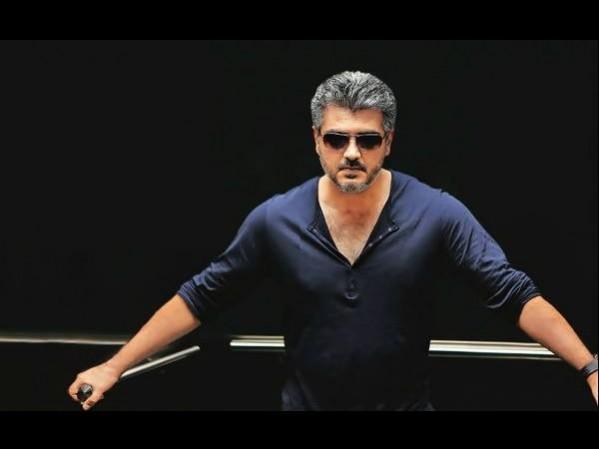 Tamil superstar Ajith, who is fondly called "Thala" by his fans, is celebrationg his birthday on 1 May. The day has turned special for his fans, as some of the theatres have arranged for special screening of popular Ajith movies in Tamil Nadu.
Also, many popular Tamil channels are showing Ajith movies or playing songs from his movies, much to the delight of his fans.
Ajith is one of those few stars who have redefined the concept of hero with their acting capabilties and dialogue delivery style. The actor recently made waves at the box office with his latest release "Yennai Arindhaal" directed by Gautham Menon.
In Tamil film industry, Ajith is known as a gentleman and respected by all his co-stars for his humble attitude and genoristy. His female co-stars such as Anushka Shetty, Trisha, Tammannah Bhatia and Nayanthara have often called him as one of their favorite actors.
For other stars such as Simbu and Arun Vijay, Thala is a role model.
Here are wishes from celebrities for Ajith on his birthday:
Here comes the most spl month fr #thala n me #taurians wish u a very happy bday 2 the wonderful person I ever met pic.twitter.com/91bonit5mB

— RAAI LAXMI (@iamlakshmirai) April 30, 2015
Happy bday to the one and only @MASSAJITH @ThalaFansClub #AjithSir #Thala have a great bday and a superb year — Vijay Yesudas (@IAMVIJAYYESUDAS) April 30, 2015
A Very Happy Birthday to the Man I Always look up to.. Wishes to #Ajith Sir!! God Bless With The Best Of Health & Happiness Forever :-)

— ArunVijay (@arunvijayno1) April 30, 2015
May 1st- Wishing #AjithSir a Wonderful year ahead! — Vikram Prabhu (@iamVikramPrabhu) May 1, 2015
Many more happy returns of the day to our beloved #THALA ... #HappyBirthdayThalaAjith #ProudFan god bless :)

— STR (@iam_str) April 30, 2015
Happy Birthday To Thala Ajith Sir — Sivakarthikeyan (@Siva_Kartikeyan) May 1, 2015
Happy birthday Ajith sir!#HappyBirthdayThalaAjith #ThalaDay pic.twitter.com/OVWlOJDMNN

— Janani (@jan_iyer) April 30, 2015
Happy birthday Ajith sir :) #spreadlove — Dhanush (@dhanushkraja) April 30, 2015
Happy Birthday to the Fearless Lion ,My Darling Brother #Ajith !Long Live with continuous successes #Thala u Rock!!

— suresh (@sureshactor) April 30, 2015
My George Clooney of India..#AJITH..wishing u a very happy birthday. . Remain the same just as u r..The best. . — khushbusundar (@khushsundar) May 1, 2015
Happy Birthday to the one & only 'Thala' of Tamil cinema - Ajtih Kumar ji. He redefines the magic of star power in Tamil Cinema. Vaazhga:-)

— Dhananjayan Govind (@Dhananjayang) April 30, 2015
It takes a lot to bcme a superstar n it take even more to remain humane simple n humble #HappyBirthdayThalaAjith sir pic.twitter.com/JghDtZEZMl — Parvathy Nair (@paro_nair) April 30, 2015
#HappyBirthdayThalaAjith .. #Thala56 update - Theme Music and Introduction song is ready Love, Anirudh

— Anirudh Ravichander (@anirudhofficial) April 30, 2015
Happy birthday THALA — Premgi amaren (@Premgiamaren) April 30, 2015
Happy birthday to you my dear Ajith Saar pic.twitter.com/8TOjvs2JkS

— silva stunt (@silvastunt) April 30, 2015
PiranTHALAnaal Vazhthukkal! Lovely person.. Hope to work with you again! #HappyBirthdayThalaAjithpic.twitter.com/7TNq5b6vSy

— Vidyu (Vidyullekha) (@VidyuRaman) May 1, 2015
Happy bday #Ajith sir. God bless

— Jayam Ravi (@actor_jayamravi) April 30, 2015

Happy Birthday THALA!!! #ThalaAjith pic.twitter.com/szGBm2U3xq — Jai (@Actor_Jai) May 1, 2015

#HappyBirthdayThalaAjith he's one Rockstar I've seen growing up all my life have a super day ahead and a blessed year #ThalaTheriMass

— Shanthnu Bhagyaraj (@imKBRshanthnu) May 1, 2015

Happy bday #Ajith sir ,, hav a rocking yr — Anjali (@yoursanjali) May 1, 2015