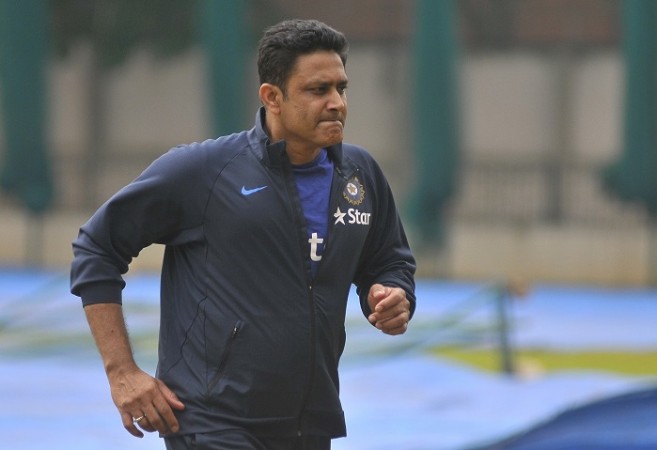 As India coasted to a comfortable-as-they-come victory over New Zealand in the first ODI in Dharamsala, the coach of this highly-entertaining and increasingly-successful team would have been contemplating on celebrating a quiet – it is always quiet with him – birthday. One of India's greatest ever players and the best bowler this country has produced – Anil Kumble – turned 46 on Monday.
In an era when Shane Warne and Muttiah Muralitharan broke record and after record with their masterful spin bowling, Kumble, not the most conventional of slow bowlers, was right up there with the best.
The great man might not have got the plaudits he deserved owing to Warne and Murali's exploits and India's obsession with honouring just the batsmen, but when it came to competitiveness and the sheer ability to give his captain, even when he himself was one, the wickets he wanted at the right time, there really were very few people in the history of Test match cricket better than Kumble.
Kumble's 619 Test wickets, the highest by an Indian by quite some distance, is a testament to that fact. Kumble also has 337 ODI wickets to go with the staggering amount of scalps in Test match cricket, and who can forget that wonderful hundred at the Oval in England in 2007, when the leg-spinner, in a team which had the likes of Sachin Tendulkar, Rahul Dravid, VVS Laxman and Sourav Ganguly, ended up being the only India batsman to cross the three-figure mark in the entire series.
That hundred perhaps brought Kumble the most joy, even if he will be remembered for his 10 for 74 against Pakistan in that unforgettable Test match against Pakistan at the Feroz Shah Kotla in Delhi in 1999 or for his competitive edge and hard-nosed no-nonsense attitude on the cricket field. You will find it difficult to find someone more competitive than Kumble once the umpire calls play, but outside it, there is no softer spoken, more articulate person than the man from Bengaluru.
All the more reason why Kumble is the perfect fit for this India team. After taking over as coach, Kumble has watched India win a Test series against West Indies in the Caribbean, beat New Zealand 3-0 at home and then looked on in delight as his pace bowlers and a leg-spinner, whittled the Kiwi batting order down in Dharamsala on Sunday.
"Anil bhai is a good help for me, teaching me how to bowl on flat tracks, always talking about mental toughness," India's current leg-spinner Amit Mishra said after that first ODI victory.
That mental toughness is what made Kumble so great – his ability and desire to go above and beyond to do the best for the team; his determination to play on no matter what – the time when he bowled against the West Indies with a broken jaw being a case in point – and his desire to win, irrespective of the situation.
They don't make cricketers like Kumble anymore -- all the more reason to take a bit of time out, reminisce about the man's brilliance and celebrate the true greatness of a competitor extraordinaire.
Happy Birthday Anil Kumble!