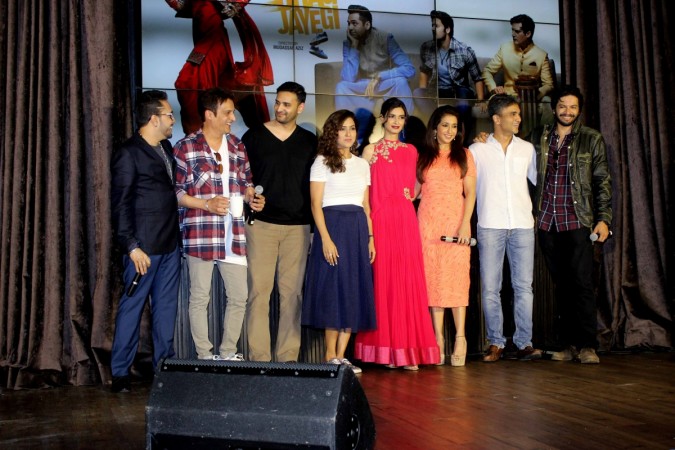 Bollywood singer Mika Singh has a record of being more famous for his controversies than his songs. The singer recently made fun of actress Diana Penty's surname during the music launch of "Happy Bhag Jayegi," which has raised quite a few eyebrows.
During the music launch, paparazzi asked the team of "Happy Bhag Jayegi," including actors Ali Fazal, Jimmy Sheirgill, Diana, producer Krishika Lulla, director Mudassar Aziz and singer Neeti Mohan, for a photo. It was during that time, Mika made fun of the actress' surname and said Diana Penty and Mika Kaccha (underwear) on stage.
"I want that Deena you come in the centre. (When corrected) Diana Penty and Mika Kaccha (underwear), it's a good name," he said when photographers asked the team to pose together.
"Actually my English is very hi-fi, so whenever I take Deena's name, it is like Deana or Deena. But Happy (her character in the film) is better, then no worries at all," he added.
Mika later danced with Diana, kissed on her forehead and called her beautiful and gorgeous, but his comment on her surname had already irked the actress. Diana was furious over Mika's comment, but she did not say anything.
"However, she held herself back. She reacted, but only in her head. That's how Diana is," Spotboye quoted her friend as saying.
This is not the first time this year Mika has landed in controversy. In July, an aspiring model alleged that Mika molested her at his apartment, but the singer later said that she wanted to extort money.
Mika had also slapped a doctor during a live concert in Delhi last year. The victim suffered an internal injury in his left ear and said that Mika was rude. However, Mika said that the victim was drunk and giving the finger in front of all the doctors present.