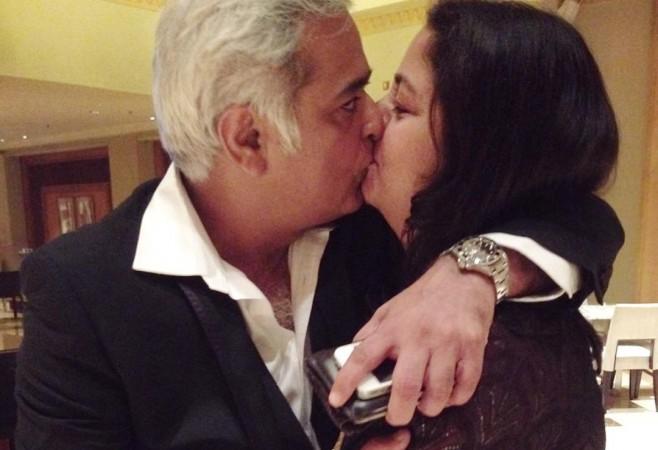 Hansal Mehta is one of the finest filmmakers in the Hindi film industry who has been entertaining the audiences with his hard-hitting content-driven films for more than two decades. He is one of those people in the industry who likes to keep a low-key when it comes to his personal life.
However, the celebrated filmmaker recently gave a peek into one of his romantic moments with his wife Safeena Husain on social media.
Hansal Mehta, who is very active on social media platforms, shared a throwback picture on his Instagram handle where he is seen sharing a passionate lip-lock with his wife.
Incidentally, the picture was taken by none other than his favourite actor Rajkummar Rao. Sharing the priceless memory of his life, Mehta wrote, "Love makes the world go round. #throwback Thank you @rajkummar_rao for this priceless memory."
Now, isn't that an adorable picture.
Hansal Mehta's lovely wife is rarely seen accompanying him to industry events. So, let us tell you something about her work.
Safeena Husain is the founder and executive director of Educate Girls, a non-profit organisation working for girls' education in some of the most educationally backward districts of India. She is a London School of Economics graduate who was involved in various development projects spanning South America, Africa and Asia for 10 years.
In India, Safeena chose the agenda closest to her heart – girls' education. Safeena, with a local team, successfully conducted a 500 school pilot in Rajasthan and established Educate Girls as an NGO in 2007. With a focus on enrolment, retention and learning, Educate Girls has metamorphosed into a 21,000+ schools program, with over 2 lakh girls enrolled in school till date, reaching over 4.9 million total beneficiaries.
Safeena's efforts to bridge the gender gap in education in India have been widely recognized. Under her leadership, Educate Girls has received the prestigious 2015 Skoll Award, 2014 WISE Award, the 2014 USAID Millennium Alliance Award and the 2014 Stars Impact Award and the India Development Marketplace Award in 2011 from the World Bank.
Moreover, in 2013, she received the British Asian Trust's Special Recognition Award from HRH Prince Charles for outstanding contribution to education. She recently won the 2017 Niti Ayog Women Transforming India Award and the 2016 NDTV-L'Oréal Paris Women of Worth Award in the Education Category.