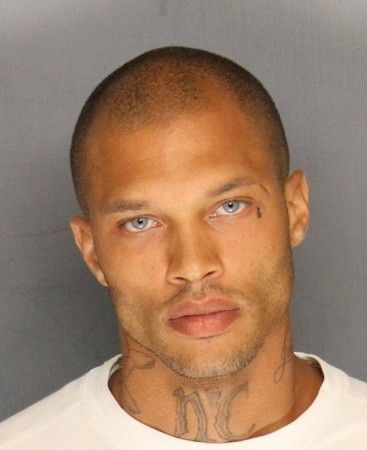 A felon's mugshot has gone viral after Stockton Police posted it on Facebook, following his arrest.
The photo of the repeat offender, who has been labeled "gorgeous" and "handsome", has gained over 50,000 likes and the admiration of thousands of women.
Jeremy Meeks was arrested on Wednesday in Stockton, North California and was charged with six felony counts relating to street terrorism and weapons, the local police revealed.
Following the arrest, the Stockton Police, via a statement on Facebook, informed that due to an increase in shootings and robberies in the Weston Ranch area, a multi-agency Operation Ceasefire enforcement mission was carried out on Wednesday.
"Through an Operation Ceasefire analysis of the recent shootings, we identified a new active group in the Weston Ranch Area," the police stated.
Meeks, 30, was arrested along with three other felons - Terry Bailey, 22, Juzri Coleman,18, and Joelin Coleman, 44.
The mugshot was shared by thousands on Facebook while hundreds of admirers, mostly women, commented on the post.
Here are a few reactions from his admirers:
"Wow, it doesn't matter what he did, as long as he looks good!" Facebook user Despina Hollis commented.
"Omg he is gorgeous... he needs to be a Armani model... this is the future sexy male," wrote Maggie Caro, another Facebook user.
There were also admirers, who hoped that Meeks would leave crime and chose a better profession.
"Hopefully, with God's Grace, he will use all this attention to change his life. He certainly could have a career as a male model. Best wishes for you, Jeremy, you have a wife and child who are depending on you," stated Lori Speakman.
"Hope he Gets into Modeling After this. He is really hot! But his actions not good, great looking face but with a stupid brain," posted DreamerSky Massingille.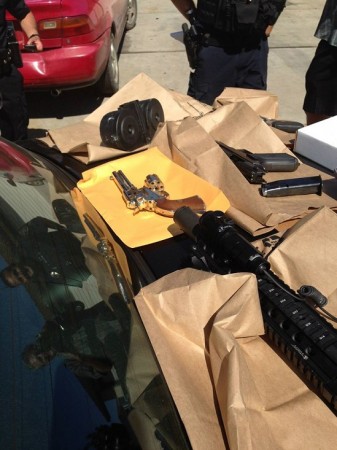 Police seize Ammo cache
Meanwhile, in the raid the police recovered five handguns, three rifles, several high capacity magazines, and a large stock pile of ammunition from the possession of the four. They also located over a half ounce of methamphetamine.