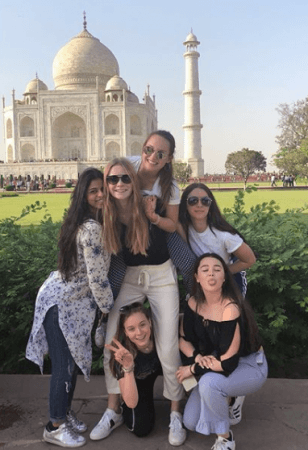 Suhana Khan who was spotted at Taj Mahal a few days back. She was accompanied by her school friends from London and mom Gauri Khan. Later, Gauri shared some photos of their visit on her Instagram handle. Suhana and her friends posed in front of the iconic monument, Taj Mahal.
In one of the pictures posted by Gauri Khan, which showed Suhana and friends, the Jr. Khan looked pretty in a white georgette kurti with blue floral prints and a white crochet neckline which she paired it with denim. But here's a fun fact — Gauri Khan wore the same kurti back in 2013 when she visited Hrithik Roshan post his brain surgery. But, we are not complaining because Gauri's kurti fits Suhana beautifully.
When Glossy magazine quizzed king Khan about Suhana's acting dreams, he said, "I have a strong take. I'd like her to be on the cover of magazines like all my heroines are, wear any kind of clothes she wants to wear and look sexy and beautiful. I want her to feel attractive, beautiful and respected, and more importantly, I want her to work hard. There are days when I feel down—the only reason I get up and go to work is when I think of her. I have only one mandate where she's concerned: she can act, but she has to study first."