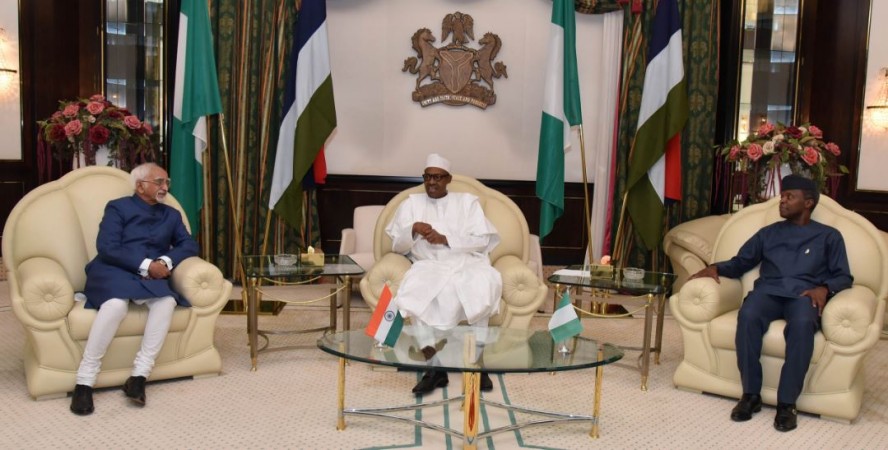 Indian Vice President Hamid Ansari arrived in Nigeria on Monday to hold talks with his counterpart in Abuja. The visit is expected to infuse new energy and broaden the partnership between two countries.
Ansari held delegation level talks with VP of Nigeria, Yemi Osinbajo. He also called on President Muhammadu Buhari at the State House in the Nigerian capital.
The two sides signed memorandum of understanding (MOU) on trade and investment. An MOU in the field of Standards was also signed.
The VP said during his lecture on "Emerging Security Imperatives" at National Defence College that the task of defining, and implementing, a security paradigm is challenging in democratic, pluralist, developing societies, especially when they have diverse religion, ethnicity and languages.
He further warned that "People need to feel secure both at the individual and community level. If they feel they are victims of economic deprivation, neglect and negative politics, they lose faith in the State."
He said, both India and Nigeria face similar challenges from climate change to terrorism, which has created a sense of insecurity in the region.
Nigeria is battling a seven-year old insurgency by Boko Haram, a militant Islamist group. The group gained international notoriety when they kidnapped nearly 300 school girls from their boarding school in 2014.
"The Vice President's visit (to Nigeria) intends to further strengthen the strategic partnership between the two countries, expand and diversify bilateral economic engagement and explore new avenues of partnerships on a wide range of issues of shared common interest," said Vikas Swarup, spokesperson External Affairs Ministry in a statement.
The VP inaugurated a new building of the High Commission of India in Abuja on September 26, 2016. He also engaged with the business community, and addressed the India-Nigeria Business Forum on September 27, 2016.
VP is also travelling to Lagos, Nigeria's largest city where he will meet its Governor Akinwunmi Ambode. He is also expected to address the Indian community there and deliver a speech at the University of Lagos.
India, a leading buyer of Nigerian crude oil is expected to buy more oil, apart from natural gas, according to Reuters.
The VP is accompanied by his wife Salma Ansari, Minister of State for Finance Arjun Ram Meghwal, MPs Bhubaneshwar Kalita, Dilip Kumar Tirkey and Mohammad Salim besides senior officials.
Indian VP is on a five-day visit to Nigeria and Mali. The first leg of his visit is to Nigeria.