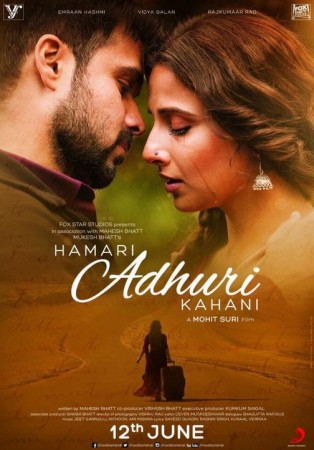 "Hamari Adhuri Kahani" has, as expected, received mostly positive reviews from the film fraternity.
A special screening of Mohit Suri's directorial film "Hamari Adhuri Kahani" was organised this week for the cast and crew, makers and a few Bollywood celebs. And as expected the film has received great response from the people who watched it.
After its songs, Bollywood celebs are going gaga about the story, direction and wonderful performances of the lead actors, Emraan Hashmi, Vidya Balan and Rajkummar Rao.
Check out Bollywood celebs review of "Hamari Adhuri Kahani" below:
Mahesh Bhatt: One's destination is never a place but new way of seeing things.#HamariAdhuriKahani will take u to that place in your heart... The moment u have in your heart this extraordinary thing called love the world is transformed.#HamariAdhuriKahani will make u believe in luv
Ali Fazal: saw #HumariAdhuriKahani. @foxstarhindi @MaheshNBhatt @mohit11481 @emraanhashmi #VidyaBalan both the actors steal it away!! It's a classic!! You take the heart,U squeeze the juice out n fill it bak with virgin blood. Ready 4 love n pain, #HAK @MaheshNBhatt @PoojaB1972 @mohit11481
Pooja Bhatt: @emraanhashmi resonates in one's heart & mind hours after the first screening of #HamariAdhuriKahani Kudos @mohit11481 its your victory!
Gulshan Devaiya: 2015 is "The Year of the Leading Ladies" #HamariAdhuriKahani is a simple yet very emotional story @RajkummarRao as always your on the mark:)
Shagufta Rafique: HAK... hats off Bhatt Saab Mohit suri Vf Vidya balan..the Musical team.. .And Emraan Hashmi what an outstanding performance .. Raj kumar rao is one helluva an actor who needs no praise....As simple as that...:-D...