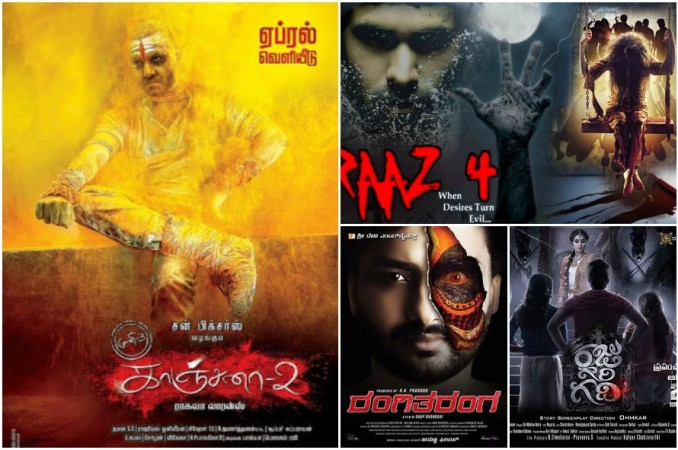 South Indian film industry has churned out several hit horror movies, which can be a treat for fans for Halloween 2016. The indusrty is apparently more successful with this genre than Bollywood.
Though movies were made in this genre, horror films were not fete of southern industry in the previous decade. Tamil films like Muni (Kanchana) and Pizza became super-hits at the box office and following their success, a host of horror movies were produced and released in the last five years and many of them proved a hit with the audience. Especially in the last couple of years, the industry has overdone this genre.
On the other, Bollywood is known for churning several hit horror movies in the last decade and Raaz, 1920, Ragini MMS, Haunted, Phoonk and Bhooth are some successful horror films. But the industry seems to be not doing good job with this genre in the last few years as some of its big ticket films like Raaz: Reboot, 1920 London, Creature 3D and Alone failed to to strike chord with the viewers.
But the experts from the South decline to buy the idea that Southern industry is more successful with horror movies than Bollywood. They say Bollywood has produced several hit horror film series, but it is just the time, trend, content and few technicals aspect are not going well with Hindi films. Meanwhile, they add that the trend of horror films will soon die down in Southern industry.
Sandalwood filmmaker Anup Bhandari grabbed eyeballs of national and international audience with his blockbuster film Rangi Taranga. When quizzed about horror films in Bollywood, Anup says, "It has reached a saturation point. Or maybe, filmmakers are not having a new approach to horror films. After all, the content will remain hero. Good stories will definitely work if presented differently."
When asked about whether Rangitaranga will work in Bollywood, he admits that the film will become hit with Hindi audience, if it is changed as per their taste. "I feel it might work if it tweaked to the sensibilities of Hindi audience. The film had a good story backed by emotions as well as horror elements," Anup adds.
The director admits southern industry is overdoing horror film and it is the usual trend after the success of particular genre. "Whenever a movie becomes a hit, filmmakers flood the market with the films on the same genre. It is a normal phenomenon. For instance, the trend on rowdyism films started in Kannada following the huge success of Om. Similarly, a new trend of romantic films started after Mungaru Male," Anup Bhandari says.
The low-budget factor is the reason for the newcomers opt for horror genre. "There is a common belief that films of horror genre will be easily made with moderate budgets. But I don't think it is true. Movies in other genres can also be made with the low production cost," adds Anup Bhandari.
Director RS Vimal, who is known for his debut venture Ennu Ninte Moideen, also bats for Bollywood and he says that the industry is known for its fine content. "Bollywood has churned out hits in the horror genre in the past as they had good content. I feel the audience will always accept content-driven films with quality technical back up," the director says.
Sreedhar Pillai, a critic and trade analyst and observer of Kollywood, says. "The market is not good for pure horror films in Kollywood. This genre has worked well for Tamil due to the comedy elements. Horror films laced with humour have attracted good viewership." He adds, "It has now reached a saturation point where people have started losing interest in the films made in horror-comedy genre. The market might only stay here for another year."
But Sreedhar Pillai denies that Bollywood filmmakers are not making good horror films. He says, "Bollywood is doing lots of experiments and is ahead of South films in many ways." Asked why young filmmakers prefer horror to other genres, he says, "Horror comedy films can be made with limited budget and the satellite rights of the successful films in this genre are also in demand. So, filmmakers find this genre attractive."
Vamsi Kaka, a critic and trade analyst and observer of Tollywood, admits that Southern industry is successful in producing hit horror movies in last 5 years. He thinks that Bollywood has failed in direction as it is struggling to get over its obsession for horror-romance genre.
"More than horror, I would say Horror-Comedy has become a huge hit across South India in the past 3-4 years. Films like Kanchana, Kanchana 2, Prema Katha Chitram and Raju Gaari Gadhi etc minted money at the box-office. Unlike South, Bollywood is more obsessed with horror-romance genre. Comparatively, South Indian filmmakers have mostly succeeded in entertaining the audiences with Horro films," Vamsi says.