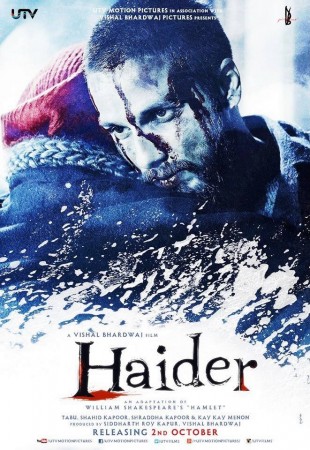 Shahid Kapoor and Shraddha Kapoor starrer "Haider" is going steady at the domestic box office, after witnessing a fall on first weekday.
The Indian drama, which has been in controversy, has minted around ₹38 crore in seven days. After earning ₹3.5 crore on Tuesday, the film made a business of approximately ₹3 crore on Wednesday.
The makers have already earned the production cost of ₹24 crore and is now making profit from the box office income. "Haider" cast and crew including lead actors celebrated the success of the film on Wednesday night.
"Haider" received positive response from critics and audience, also the box office collection of the film is decent. But after a week, the film has landed into controversy.
Earlier, a group of Kashmiri pandits demanded a ban on the film for portraying their temple in bad light.
And on Wednesday another controversy erupted after reports of Jammu & Kashmir Chief Minister Omar Abdullah complaining to Vishal Bhardwaj about his directorial film surfaced online.
A newspaper carried a report saying that Abdullah complained to Bhardwaj over the film's depiction of Kashmir. But Abdullah denied the reports saying that he is yet to see the film.
"So this website has to be awarded for the most amazing work of fiction I have seen in a very long time," he tweeted.
"Lets be very clear I haven't seen Haider, I don't know when & even if I'll get down to seeing it much less writing to Vishal about it."
"Haider" is an adaptation of William Shakespeare's drama Hamlet. Directed by Bhardwaj, the film features Shahid, Tabu, Kay Kay Menon, Shraddha and Irrfan Khan in important roles.