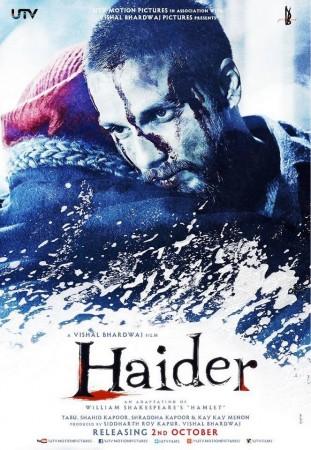 Shahid Kapoor starrer "Haider" continues to earn decent amount from box offices worldwide, despite the presence of new releases. The film has raised ₹65 crore net income from India as well as overseas box offices in 15 days.
"Haider", set in the backdrop of Kashmir, has reportedly been declared the fifth highest-rated thriller of all time. Vishal Bhardwaj's film has not only earned its production cost back but it's continuing to rake in more money from domestic and overseas markets.
In half a month, the film earned ₹65 crore (domestic ₹53.47 crore and overseas ₹11.66 crore) and now it's just ₹35 crore short of reaching the coveted 100 crore mark globally, according to Bollywood Hungama. But will the film earn ₹100 crore in its lifetime run and enter the elite list with big-budget movies?
Here are a few reasons why the film might not enter the elite century club:
Screen counts: The film was initially released with a limited screen count, i.e. only 1,000 screens. The screen count declined in the second week to accommodate new releases. The decline in the number of shows will eventually affect the overall income of the film.
Screening hits a roadblock: The film has been subject to several controversies since the time it was released. Recently, the Allahabad high court ordered the makers of "Haider" and the Censor Board to stop the screening of the film.
The court issued notice to Censor Board, producers of the film Bhardwaj and Siddharth Roy Kapur and co-writer Basharat Peer, seeking a reply on a PIL filed by Hindu Front for Justice, a group of local lawyers.
The lawyers in their petition alleged that the film harmed the sovereignty, integrity and unity of India, and that films, which harm national interest, could not be screened, PTI reported.
Ticket rates: Although "Haider" remains moviegoers' first choice, the ticket rates of the film have gone down in the second week, compared to the first week. The lower the ticket rates, lower the box office earnings.
"Happy New Year" release: "Haider" has only one week in hand to earn the ₹35 crore it needs as Shah Rukh Khan's "Happy New Year" is set to release next week. But since "Haider" has entered its third week, it is unlikely that the film will earn ₹35 crore more in a week. The pace of the film had slowed down drastically in the second week itself.