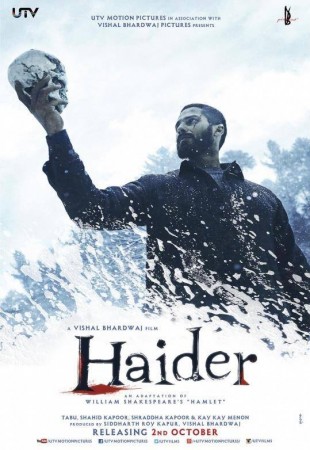 Shahid Kapoor and Shraddha Kapoor starrer "Haider" is nearing the ₹50 crore mark at the worldwide box office.
The domestic turnout of the film is ₹35.06 crore after six days, while the overseas collection is ₹6.51 crore by the opening weekend.
In overseas market, the film was released in only few countries and that too in limited screens. The film raked in around ₹3.31 crore from the US-Canada box office, which is the highest contributor in overseas income. From the UAE-GCC market, where "Bang Bang" is dominating, the film raked in ₹1.97 crore.
Collections from the UK-Ireland box offices are low compared to the US and UAE circuits. In its opening weekend, the film minted only ₹87 lakh from the UK market. Australia also witnessed the same trend like the UK circuits. "Haider" minted ₹36 lakh from the Australian market in its opening weekend.
The film was not released in New Zealand and Pakistan box offices.
In India, the film is doing decent business during the weekdays. It witnessed a drop in its Monday's earnings at the box office, but the drop was normal considering that it was a partial holiday due to Bakri Eid.
But on the next day, the film witnessed around 20% fall in its business compared to Monday. It minted ₹3.25 crore on the sixth day, taking its overall domestic total to ₹35.06 crore.
The breakup of the film is: Thursday ₹6.14 crore, Friday ₹6.93 crore, Saturday ₹6.38 crore, Sunday ₹7.33 crore, Monday ₹5.03 crore and Tuesday ₹3.25 crore.
Now it looks like the collection of the film is set to go down further as Kashmiri pandit groups have sought a ban on the film for portraying ancient Sun Temple (Martand Temple) of Kashmir as a devil place, India Today reported.
All Parties Migrants Co-ordination Committee (APMCC), which is a mixture of Kashmiri pundits, protested in Jammu this week against the screening of "Haider".
"By allowing shooting of a film inside the temple and then depicting as the devil's den is intolerable. We demand immediate deletion of the song or the re-shoot of the entire sequence," members of the APMCC told India Today.
"We will not tolerate religious incursion under the garb of artistic freedom," they said.