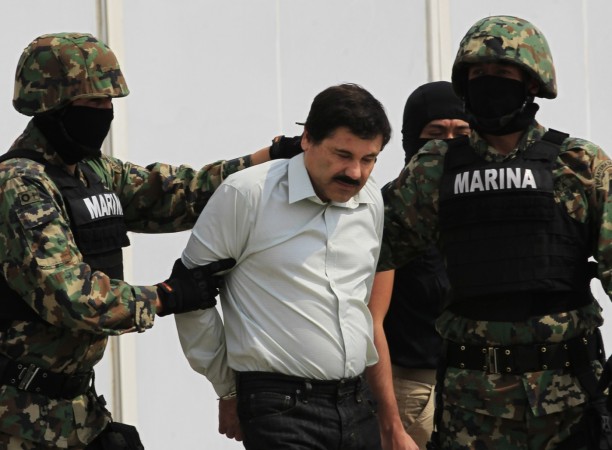 The US trial of dreaded drug lord Joaquin Guzman has already raked muck on a swathe of Mexican power elite but more daring revelations are to follow, according to media reports.
Guzman, more widely known as El Chapo, paid huge bribes to the current and former Mexican presidents, his one-time associate will tell the court this week, the New York Post reported, citing court documents.
Jesus 'El Rey' Zambada Garcia, a former associate of El Chapo, is to depose before the New York court that he paid at least $6 million in bribe to the president.
Last week, Guzman's lawyer had alleged that El Chapo was a scapegoat while the real leader of the Sinaloa Cartel was Zambada.
"He's blamed for being the leader while the real leaders are living freely and openly in Mexico. In truth he controlled nothing. Mayo Zambada did," Guzman's lawyer Jeffrey Lichtman said, according to the BBC.
The lawyer also said Zambada was spared as he bribed everybody "including the very top, the current president of Mexico and the former".
President Peña Nieto and his predecessor Felipe Calderón had roundly rejected the accusations.
The dreaded Sinaloa cartel is the biggest supplier of drugs to the United states. Mexico extradited Guzman, one of the most dreaded drug lords, to the US in January 2017. The 61-year old, who had enacted some daring jailbreaks during his infamous career, faces life in jail if found guilty.
Zambada, deposing as a witness, narrated instances when Guzman asked him to pass on hush money to people in power. He said his job was to corrupt those in position of power. Zambada also presented evidence to Guzman's crimes, explaining how elated the latter was after his gang bumped off rival Ramon Arellano.
'Most ruthless and dangerous man on the planet'
Guzman was known for his brutality, and the US government considered him to be the "most ruthless, dangerous, and feared man on the planet." He was also extremely rich at one point, with Forbes ranking him as the tenth richest man in Mexico in 2011.
Guzman's gang was known for the worst crimes -- killings, beheadings, dismemberment and other hideous acts. In 2012, the Sinaloa Cartel placed headless bodies of 14 Los Zetas members near the office of the mayor, also called Nuevo Laredo Massacre 2. In 2011, on order from Sinaloa Cartel, tortured bodes of 35 men and women were dumped along city highway.
According to the US Drug Enforcement Administration (DEA), almost 43,000 people have died in Mexico's drug war since December 2006.