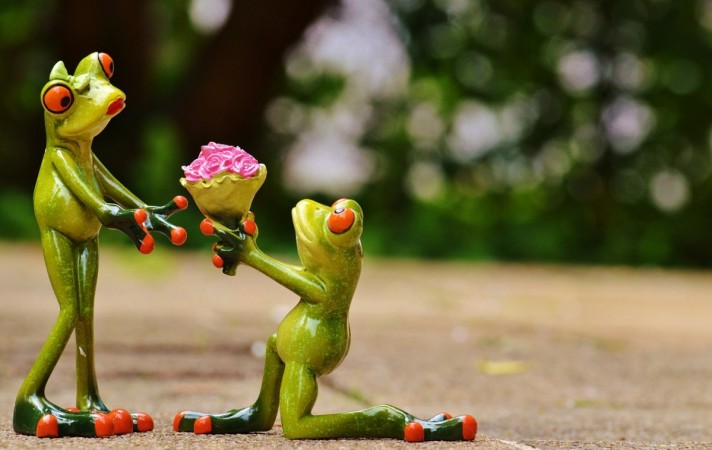 Valentines' Day is just around the corner and many would be planning for gifts, romantic dinner, and lot more. Also, this is the day when Cupid's arrows sting you deeply, so you try to make everything special for your girlfriend.
So, here we are to help you out a little over this matter (wink).
In this age of Weinsteins, it is a bit risky to show your love to your partner especially if you are planning to start something new. However, the video below from an age-old Bollywood movie can come to your rescue and teach you how to propose in a 'sanskari' way.
A scene from Raj Kapoor's 1960 film Jis Desh Mein Ganga Behti Hai has gone viral, just in time. And it's going to be the best clip that would come handy for the Valentines' Day -- just in case you need a reference to how they pulled it off in the past.
Directed and acted by Raj Kapoor, Jis Desh Mein Ganga Behti Hai was a box office hit at that time.
In this scene from the movie, Raju (Raj Kapoor) is seen 'flirting' with a beautiful girl (Padmini). While expressing his feelings to her, he says: "Mere man mein ek baat aayi hain. Shivji ki kripa hui to ek din, chota sa lalla hoga mera, Kammo ji. Aur uska naam main rakhunga Shri Ganga Prasad. (I have something in my mind. If god's will is with me, Kammo ji, I will have a little boy one day. I'll name him Shri Ganga Prasad).
And he adds: "Kammo ji, aap mere uss lalle ki maa banengi?" [Raju proposes love to Kammo by asking her to be the Mother to his yet to be born son].
Any girl would have gone crazy with this kind of proposal today. But Kammo starts blushing and could not utter a word.
Then Raju further says, "Aap ek lalle ki baat sunkar, fikr mei mat padiye Kammo ji. Shivji ne chaha to lallo ki line lag jayegi ji." (Kammo ji, don't get frightened on hearing about just one boy. If God wants it, there'll be a line of boys.)
Now, Kammo feels so shy that she can't even look at Raju anymore. So she runs away.
Watch the video here.
Well, Bollywood inspires us in many ways. But be it a Raj Kapoor way or Shah Rukh Khan way, this trick might be a little tricky though.
Disclaimer: Please note that this stunt was pulled by a professional and you must not try it without taking adequate safety measures, especially during Valentines Day. We'll not be responsible for the consequences that you might face by imitating Raju.